Weight:
30 gr
,
Volume:
30 ml
Series Expert is an alternative skin revival program. Innovative products solve problems without plastic surgery and in-salon treatment!
Formulas of products and techniques for home use are designed using methods of aesthetic medicine and plastic surgery. The principle of treatment from Series Expert is to solve problems quickly, efficiently, safely and reliably, without complications, side effects or resorting to radical methods.
With aging we are faced with skin problems such as appearance of wrinkles, skin loses of elasticity, sagging of cheeks, development of double chin, changes of face shape.
This is because over time body starts to produce less collagen and elastin - elements that are necessary to keep skin's elasticity. Visually the loss of a youthful oval face adds more age to a face than wrinkles does.
"Face Lift" Face & Neck Cream is designed not only to fight the effects of skin aging, but also to diminish the reasons for them to occur, as it affects key molecular mechanisms.
Properties
Tightens, models and enhances facial contours.

Prevents skin sagging on cheeks and chin and stops deformation of facial contours.

Restores skin's elasticity, firmness and tone.
Clinical studies
20 women aged 61 ± 7 years participated in the testing of the product performed by laboratory Silab (France). Volunteers used the product twice a day for 56 days. The research results are as follows:
All volunteers noticed skin's firming and smoothing after using the product that contains Papylactil D ®.

71% of participants noted that contours of the face have tightened significantly.

90% noticed significant improvement of skin tone.
Macro improvement of skin after the application of this course: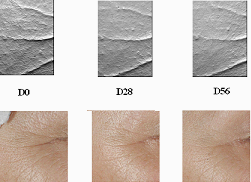 Shelf life: 18 months from date of manufacture.
Shelf life after opening: 8 months.
Made for Faberlic JSC, 4 Nikopolskaya str., Moscow, Russia
Country of Origin: Russian Federation
Active ingredients

Papilactyl D,® the patented earthnut oligosaccharides complex, protects the papillary dermis structure and promotes the synthesis of collagen that is responsible for skin elasticity; prevents skin deformation and fights deep wrinkles; restores the required level of highly-elastic oxytalan fibers to make skin supple and elastic.

Basaline® , the rejuvenating barley malt complex, improves the synthesis of laminin - the adhesive skin protein that reduces by half with ageing. Laminin sticks collagen fibers and epidermis basal membrane together, reduces saggines and improves skin elasticity.
Stable form of Vitamin C reinforces capillary walls and promotes the synthesis of collagen.

Hydrolized wheat gluten delivers more defined face contours and reduces the appearance of fine lines.

Hyaluronic acid, a natural component of skin matrix and the most effective moisturizer, keeps skin supple and elastic.

Novaftem-O2™ complex infuses skin cells with oxygen and amplifies the effect produced by all active ingredients.

Contains: aqua, prunus amygdalus dulcis (sweet almond oil), cyclopentasiloxane, triethylhexanoin, caprylic/capric triglyceride, glycerin, arachidyl alcohol, glyceryl stearate, saccharide iso
Program "Strengthening of face oval": effective for the skin that loses its elasticity due to aging processes or under the influence of environmental factors.
A few drops of active serum with collagen apply on a clean face, neck and chest.

Then apply Face and Neck Cream "Ideal plastic" (1078) to the same area.

Duration of the program: every evening for 60 days.
Results
Well-defined cheekbones.

Leather trim neck.

Precise shape of the face.

Raised lip corners.

Smooth skin tone.

Deep wrinkles are eliminated.



Program "Effective correction of wrinkles"

Apply the concentrate for the face, "Stop wrinkles" (1060) or serum "Correction of deep wrinkles" (1063).

After 10-15 minutes apply Face and Neck Cream "Ideal plastic" (1078).

As a result, the elasticity and firmness of the skin increases, facial contours "lifts" and skin gets smoother.

Duration of the program: at least 60 days.
User
Recommendation

(700431150)


Sokolova Dina Aleksandrovna

Москва

12.06.2019


Заказала, благодаря отзывам, и не ошиблась. Крем великолепный и действительно работает. Эффект заметила уже через неделю. Использую как ночной крем вместе с сывороткой 1075.

(713464148)


Bogomolova Ol'Ga Borisovna

Москва

08.05.2019


Пользуюсь уже лет 5. Очень нравится. Кожа становится нежной и подтянутой.

(712553921)


Lebedeva Viktoriya Vladimirovna

Тейково

26.04.2019


Крем один из моих любимых, рекомендую.

(713606718)


Ashirbekova Dinara Temirhanovna

Нур-Султан

14.04.2019


Классный крем! За три дня мое лицо изменилось, кожа подтянулась, за два месяца уверена, что буду как в 20 лет, всем советую! Не ожидала такого быстрого результата!

(711176940)


Solohina Natal'Ya Pavlovna

Пермь

14.04.2019


Крем "Круговая пластика" мой любимый крем, лёгкий, быстро впитывается, не оставляет липкости, можно спокойно наносить и на шею. Очень приятно им пользоваться, а главное, я вижу эффект. Беру не первый раз, рекомендую всем, кто не пробовал.

(709633432)


Ogol' Iya Aleksandrovna

Днипро

29.03.2019


Очень хороший крем, подтягивает овал лица. Рекомендую в сочетании с сывороткой из этой серии.

(705536291)


Zhivilkova Nataliya Andreevna

Тамбов

23.12.2018


Очень хотелось попробовать крем 1078 вместе с сывороткой 1075. Одного тюбика крема было мало, применяю два. Сыворотка пока расходуется одна. Эффект заметен после первого раза, а после второго раза еще больше. Отбеливает, матирует кожу. Люблю все кремы!!!

(708409100)


Generalova Ekaterina

Лобня

02.12.2018


Появился естественный румянец... Овал лица как у девочки. И это в 40+.

(707134754)


Zhuravleva Natal'Ya Vladimirovna

Донецк

25.11.2018


Мне 41, применяю 2 раза в день больше 2х недель - улучшения заметны, очень хочу посмотреть на результат после 60 дней.

(711485840)


Dubnichenko Anastasiya Viktorovna

Ростов-на-Дону

15.10.2018


Хороший крем, понравился. Действительно, подтягивает кожу.

(704274497)


Ismailova Raihan Zhaksylykovna

станция Сарышаган

10.09.2018


Крем супер, за 3 дня использований есть изменения. Сбросила 8кг, лицо значительно обвисало. Вот 4-й день 2 раза мажу, супер эффект! Спасибо, ФБ!

(707055667)


Romanova Viktoriya Vladimirovna

Евпатория

24.08.2018


Великолепная серия. Крем очень любит моя бабушка, которой 71.

(708468476)


Kabanen Vera Vyacheslavovna

Челябинск

14.08.2018


Крем классный, один недостаток, ограничено количество, увеличьте количество.

(710660370)


Idrisova Dinara Denisovna

Уфа

14.07.2018


Мне очень трудно угодить в плане кремов. 37 лет, пользовалась полтора месяца, лицо на глазах преобразилось, ничего, кроме пенки для умывания и этого крема я не наносила. Очень люблю этот крем, другого ничего не могу наносить. Шея, подбородок сразу выглядят ухоженными. Кожа была с эффектом апельсиновой корки - и вуаля, после применения цвет кожи ровный, чистый.

(708030065)


Krupenskaya Leila Galievna

Самара

12.06.2018


Первый и единственный крем от применения которого я реально увидела результаты, хотя пробовала очень много люксовой косметики за несколько тысяч - баночка. Уже не верила в действия кремов, задумывалась о пластике. Мне 39 лет, наметились обвисания овала лица, мешки под глазами. Уже за пару недель использования все подтянулось, через пару месяцев я забыла про эти проблемы. Наносила поверх сыворотки "Renovage". Верните крем в продажу, пожалуйста!!!
Results 1 - 15 of 64