Электронные платежи
You may replenish your Online Account via electronic payment systems. The list of such systems accessible for Fabelic Representatives may change from time to time and depends on contracts with service providers.

Let's see how your Online Account may be replenished via the Common eWallet. In case the commission fee is fixed by the contract between the provider and the company, it will be available on the website in the bottom right corner of the payment system (2). Select the button and press it (1). You'll see the window:

Enter the required amount in the relevant field. The commission fee and the total sum will be calculated by the system automatically. Press the "Next" button.
You'll see the window with payment details and invitation to enter your profile: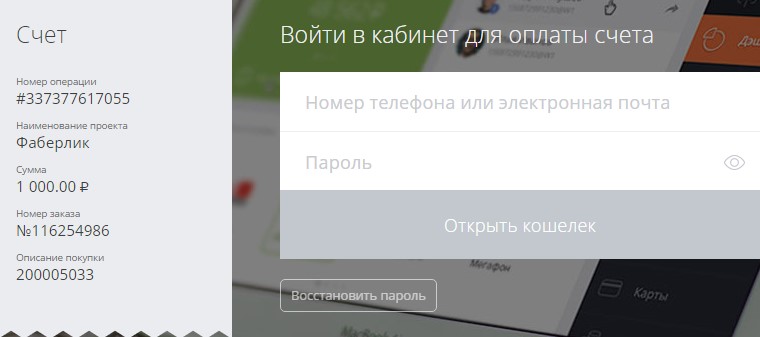 Follow the instructions given in your profile by the payment system. To continue, get back to Faberlic's website and see the Funds Flow History to check whether the funds were credited to account.
Please note that payment for orders, even with the sufficient amount of funds on your Online Account, is not effected automatically. After your account is replenished, please go to "My Account", choose the order and do the following:
• Press "Pay";
• Confirm the payment;
• Press "Approve All";
• Confirm your action.
The system will tell you that the transactions has been effected successfully. After that you may get your order.