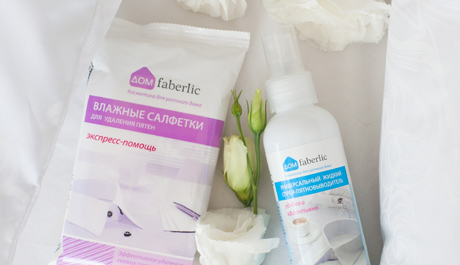 Stain Remover Wet Wipes are perfect on the go, in the office, outdoors, they are compact and easy to use. Suitable for cotton, wool, synthetics, white and colored fabric. Use them instantly, and even if the wipe doesn't remove the stain completely and immediately, it will be much easier to rub it off while laundering.
The cleansing effect of the Faberlic Home wet wipes can be compared to professional cleaning – iodine, chocolate, coffee and cosmetics stains disappear after the first use. Be cautious with patterned and colored fabrics – the wipes can change the color of non-durable dyes so make sure to test them on a hidden part of fabric. Light stroke marks may appear at some colored or dark fabrics but they will disappear completely after laundering.
The product can also be used for textile shoe tops, bags, curtains. Please note: the wipes give maximum effect when used on fresh stains so act as fast as you can! Do not force rub the fabric – the cleaning solution quickly gets inside the fibers even without doing so.
Watch the video about the Faberlic Stain Remover Wet Wipes. This popular product is being tested at the Technological Wonders show at the NTV channel: