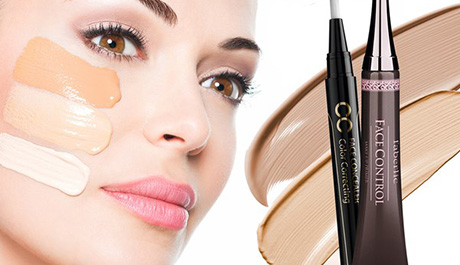 — Is it acceptable to miss the makeup base step?
- At a certain point makeup base was a professional-use product and was used only by makeup artists. Today every girl can feel the effect of this perfect product that makes makeup last longer and skin – well-groomed. Of course, you are the one to decide whether to use any product, but why miss the best?

Makeup foundation prepares skin for applying tone – it evens its surface, visually masks enlarged pores and irritations. Thus, foundation is perfectly applied and easily distributed. If you use the base before applying eye shadows, they won't dwindle or smear during the day, if you like using eye liners, the line won't lose its brightness. Same thing with the foundation: it will look fresh much longer if you use makeup base then when you don't. That is why leading makeup artists and cosmetologists recommend using base before applying makeup.
- How to select the right shade of corrector? Is there any sense in combining different shades?
- Face correctors, as well as makeup base, have come to us from professional practice. They are used to hide skin imperfections: blue circles under eyes, pimples and redness. Foundation usually has light texture and evens skin tone while corrector has a more solid texture. It is designed to correct skin with pigmentation, freckles and other imperfections. Two shades are a good match. The light one is used to mask undereye circles, brown spots or eye contour, fine lines and puffiness. Warm beige shade helps conceal light redness or blue tone, minor rosacea, insect bites, pimples.