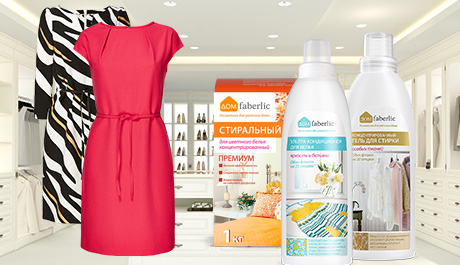 Dear friends, we're glad to answer your questions on how to care about the dresses from winter 2015-2016 collection to help keep its initial appearance and juicy colours. There're a few simple steps to follow in order to enjoy your bright look every day.
1.Coloured fabrics and especially fashionable prints need delicate wash. This means that water temperature shouldn't increase 30°С, and it's better to turn the item inside out before wash.

2.Use mild detergents, better specialized gels for delicate care, for example art. 11129.

3.No any rude mechanical effect or hand rub.

4.If you use machine wash, choose delicate wash, low speed of rotation and small time of wash.

5.It's better to iron dress inside out with a temperature of no more than 110°С. If possible, use steamer and iron your dress while hanging.

Our fashionable division made a "test purchase", chose various dresses of each shipment and washed using "Faberlic Home" detergents. The result met our requirements: the appearance of the dresses before and after wash didn't change while using delicate wash with gels and powder for coloured fabrics. It didn't lose its colour and kept the shape. Follow the rules of Faberlic dress care and enjoy your new trendy look!

Marina Kocheshkova, the director of Clothing Division prepared the materials.