Nuki: smart technologies in dental care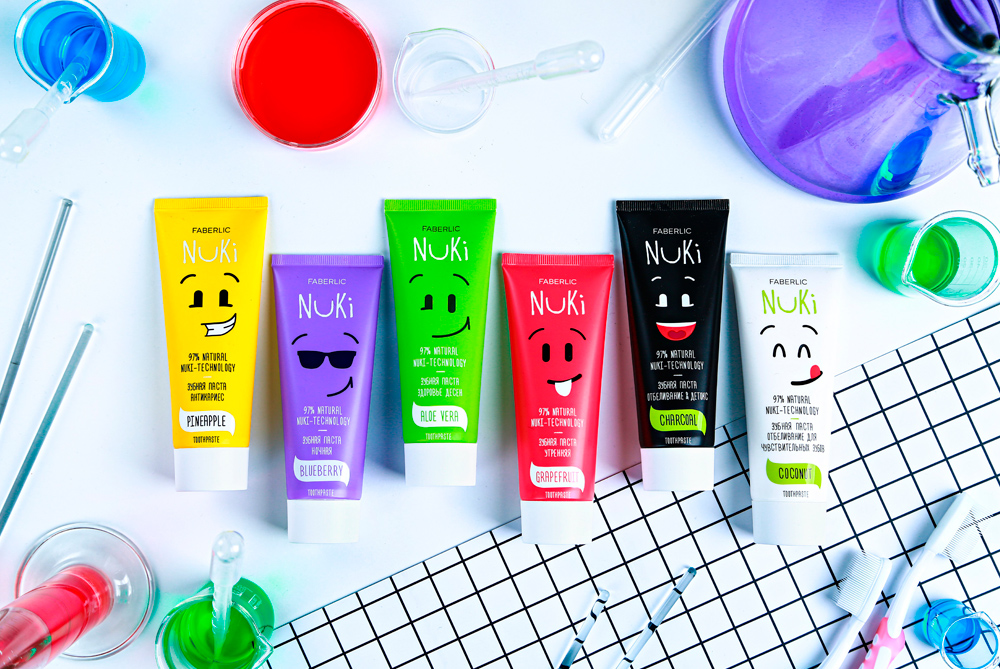 Who's there? The bright and fun heroes of the new Faberlic catalogue! Nuki toothpastes are coming here in a rush. They'll teach you the competent way to brush!
Nuki technology is a Faberlic proprietary development. We've created unique formulas, which feature active components that penetrate into tooth enamel and restore it while normalizing the microflora in the oral cavity. What does that mean? Elementary! Your teeth are protected from cavities, and your gums are safe from inflammation. Plus, each toothpaste has its own extra feature, character, and its own technique to get its job done.
Blueberry (2209) deeply cleans enamel and forms a protective layer against acids and bacteria, so use it before going to sleep.
Grapefruit (2208) will come handy in the morning, as its bright taste will help you wake up and make your breath immaculately fresh!
Pineapple (2210) reliably protects your enamel from cavities and plaque the whole day long! The result comes from natural pineapple juice accompanied by fluoride and calcium.
Aloe Vera (2211) softens, tones, and moisturizes the oral mucosa. Fights discomfort and inflammation. Great for sensitive gums!
Coconut (2214) gently whitens enamel and reduces sensitivity, plus prevents the formation of plaque. The subtle scent will delight your sweet tooth!
And Charcoal (2212) provides a detox effect! This special black toothpaste will make your smile snow-white and will absorb and remove food pigments from your enamel.
In the Nuki series, we've brought together nothing but the smartest formulas, with no SLS/SLES or parabens. 97% natural ingredients! Hurry and try these new products at a discount.