The power of the ocean: new products in catalogue №4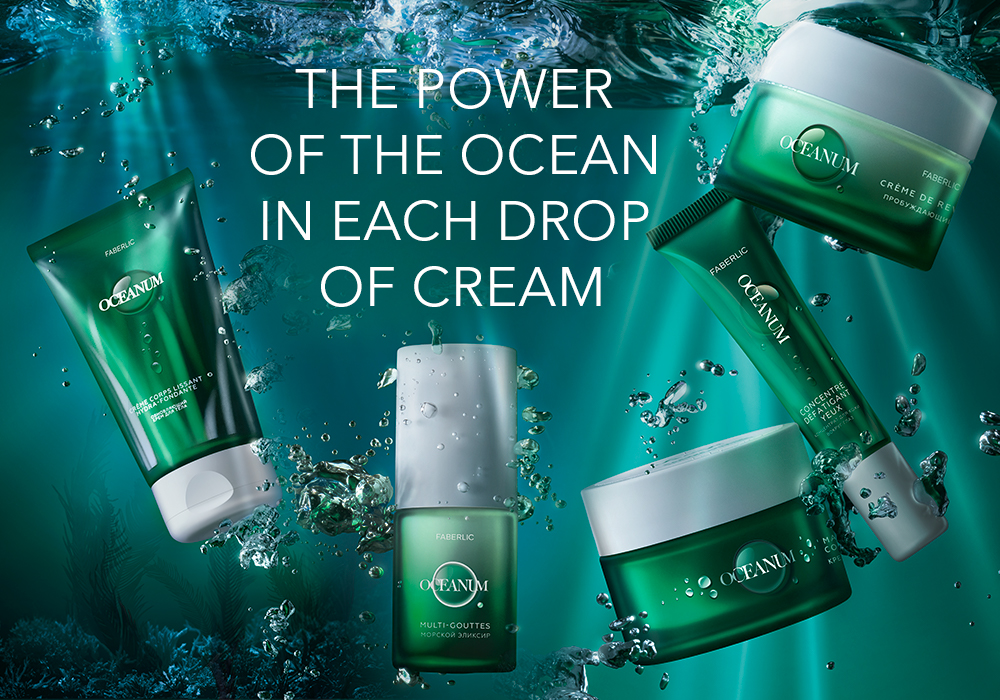 Meet the care series inspired by the ocean! We have unlocked the secrets of the depths to make millions of women's dream come true by conquering aging. Oceanum is anti-aging care for face and body, a joint development by Faberlic and French laboratory BiotechMarine.
What's special about the series? The secret of cell communication has been revealed. Damaged, aging cells send toxic signals to other cells, causing their destruction. This is called viral aging, but, fortunately, it can be stopped! Natural ingredients sourced from the depths of the ocean are here to help.
Aspar'AGETM complex extracted from rare kelp and ocean minerals blocks this toxic signal and hinders chain aging. In the Faberlic laboratory, the formula for Aspar'AGETM was enriched with active oxygen to deliver precious ingredients deep into the skin. That's how the Oceanum line of luxury products came to be – a powerful force of youth and energy!
Light eye concentrate (0941) smooths wrinkles, reduces dark circles, and makes skin supple and radiant again.
Awakening cream (0940) slows down age-related changes and creates a matte glow. It renews skin and infuses it with the energy of the ocean.
Nourishment cream mask (0942) optimizes nighttime renewal – it reduces signs of fatigue, and returns tightness and elasticity.
Ocean elixir (0943) contains a complex of active ingredients in maximum concentrations. The ultra-light texture fills in uneven spots at the smallest level and deeply nourishes. Increases the effectiveness of the awakening cream and cream mask.
Awakening body cream (0944) instantly calms and renews skin, providing long-lasting moisture and enveloping your body in a floral-oceanic scent trail.