Thirst quenchers: new products in catalogue №6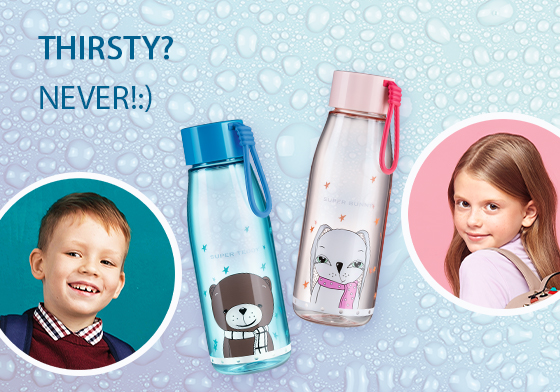 When getting your child ready for school, don't forget to put a water bottle in their backpack. Super Teddy and Super Bunny water bottles are a great option. They go perfectly with other accessories in the series: the thermal bag, lunchbox, and thermos.
Super Teddy and Super Bunny are decorated with delightful animals: the fun bear and charming rabbit that boys and girls everywhere have already fallen in love with. The bottles come in two popular colors: blue and pink. Your children won't want to leave their little buddies behind, even for a minute. During classes and breaks, on walks and playing sports: a water bottle will always be there to quench your thirst and cheer you up!
The bottle holds 450 ml. The silicone loop handle makes Super Teddy and Super Bunny water bottles easy to carry. They are made of light and durable plastic that can withstand everyday use, even if it's a little rough.
.