Loungewear: new products in catalogue №6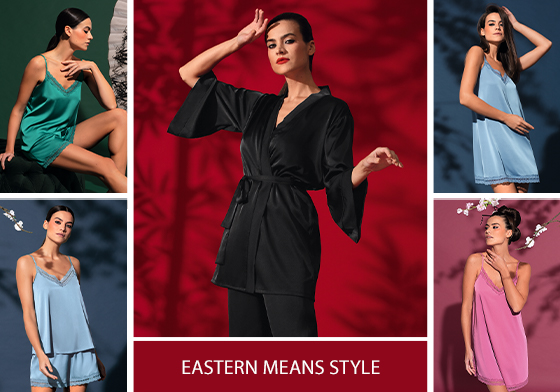 Let the time you spend at home be special. Give up old stretched out t-shirts and leggings. Swap them out for clothes that let you feel confident and stay elegant, even away from appraising eyes.
We designed a cosy and seductive collection for sleeping and relaxing especially for you, and it's infused with Japanese grace and spirituality. The collection will make your looks feminine, aristocratic and full of Eastern colours.
The shorts and trousers have elastic waistbands. The top and chemise feature narrow adjustable straps and an elegant V-neck. The kimono has a removable belt. Thanks to the loose cut of these clothes, you'll be able to stay comfortable while running your household, but still enjoy your reflection in the mirror. Choose the pieces you like and combine them in different ways to create a stylish at-home look.
The collection features on-trend colors: blue, green, pink, and black. All pieces are made from flowing satin with a soft shine. Lace trim adds a touch of sophistication and charm.