Wellness style: new products in catalogue №6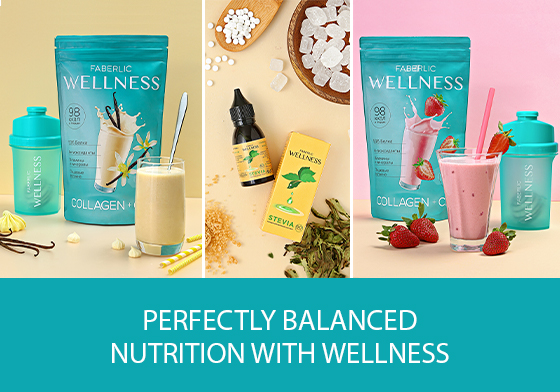 Wellness isn't a fad, it's a state of mind! It brings together fitness and well-being, and strikes a balance between nutrition and delight, directed effort and carefree relaxation. Give your body the care it deserves to keep yourself happy and joyful every day - that's what wellness is all about. The new line of functional nutrition from Faberlic was created with this in mind!
Wellness shakes, soups, and bars are a great source of proteins, fats, carbohydrates, fibre, vitamins, and minerals. It's a full meal! These balanced portions easily fit into your active life, keep you from feeling hungry, and help comfortably control weight without denying yourself a varied diet.
Wellness shakes charge you with energy and keep you beautiful, thanks to vitamins, collagen, biotin, and CLA! Choose your favourite flavour and replace a dinner or lunch with it. You can use skim milk instead of water when preparing the shake.
Wellness soups are packed with flavour, natural ingredients, and nourishing components! The soups are 42% protein - all amino acids, including essential ones, as well as carbohydrates, complex fats, prebiotic inulin, and dietary fibre.
Stevia extract is a natural sweetener for drinks and home cooking. Use it instead of sugar to reduce your calorie count while giving your body beneficial microelements!