Watermelon and Melon: new Vitamania series products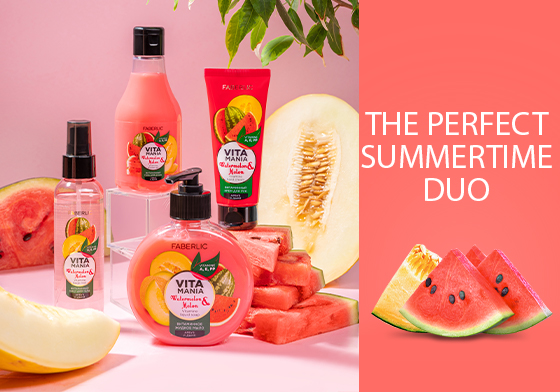 This is the perfect pair. Once you experience the unique scents of watermelon and melon, it's clear that summer is on the way! We indulged ourselves a bit and brought the change of seasons a little closer.
These new products in our series, imbued with the warm breath of summer, will instantly transport you to sultry August. The scent of your favorite fruits, subtle aromas of freshness and abundance, a free and relaxed mood - all in your bathroom. This is Vitamania, the favourite series of dreamers and optimists everywhere.
Vitamin-enriched formulas, delicate textures, and gentle action are the characteristics of all products in this hit line, no exceptions. Put liquid soap and shower gel under the bathroom mirror, and hand cream in the most frequently-visited part of your home, to refresh your skin protection after each wash. We recommend keeping the vitamin mist right at your workstation, and taking it with you everywhere: it's a proven way to quickly moisturize your skin and hair.
Try it now and get a discount on each when you buy two new products from the Vitamania series!