With love: new clothing collection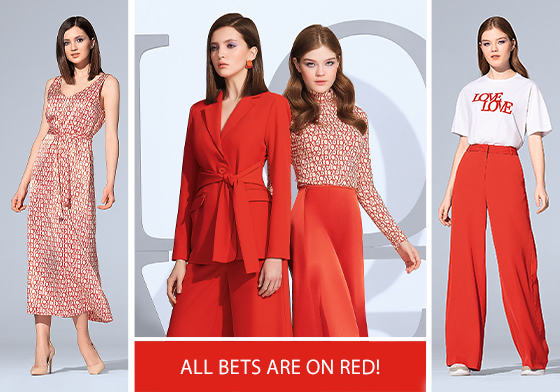 The color of passion and printed details with the most well-understood meaning in the world: this is the Love collection. We love life and appreciate its bright moments! Look for strong emotions and genuine feelings in feminine silhouettes and a bold palette.
Don't know what to combine bright red pieces with? Get a set of understated white or beige accessories and shoes to go with them. Or just put together a monotone scarlet outfit!
Rich color isn't just for special occasions when you want to attract attention. It deserves a place in your everyday wardrobe. A red dress is almost as versatile as a black one, and it requires almost no jewelery. A red pantsuit is a way to finally feel confident and achieve success in your career! A red jumpsuit is a non-standard fashion decision that makes you unique.
Find your one true piece in the Love collection: this summer it will go with your favorite jeans, perfectly match your white shoes, and show its face when you feel like you have nothing to wear. From basic turtlenecks to trendy palazzo trousers – everything you'll need for the warm season!
!