ARISU hair care. New product in catalogue №12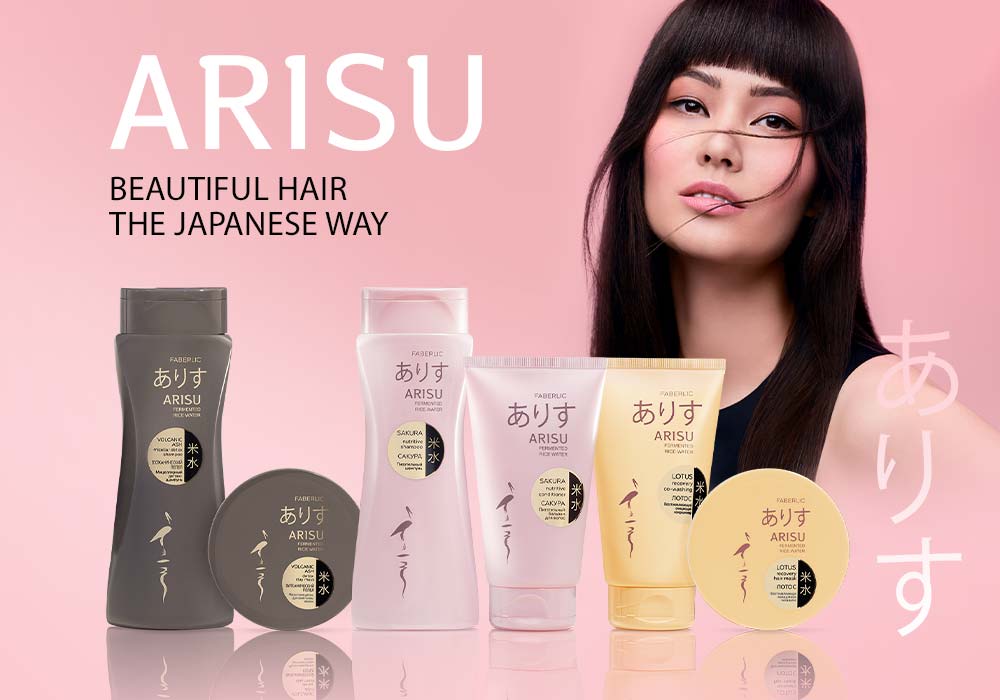 The best beauty products have to be international, which is why Faberlic is always glad to collaborate with leading experts from all over the world. The new Arisu hair care line was created together with Japanese company Tsuno. These hair care products contain truly Japanese ingredients:
- Fermented rice water has a similar pH to your scalp, plus contains vitamins B, C, E, and minerals. It smooth down damaged hair cuticles, making them strong and supple.
- Inositol from rice bran is a В-group vitamin that can penetrate deep into hair structure to nourish along the whole length and prevent hair loss.
SAKURA EXTRACT
Sakura is a valuable source of antioxidants, essential vitamins, minerals, and organic acids. The extract of this flower contains carotene and ascorbic acid, plus B-group vitamins that are a must for beautiful hair. Especially recommended for dry and brittle hair.
Sakura nutritive shampoo for all hair types cleanses and deeply nourishes hair, returning its lively shine.
Sakura nutritive conditioner for all hair types deeply nourishes hair from root to tip, making it strong and shiny.
Purchase the Sakura set of shampoo and balm for only 1000 rub. 599 rub.
LOTUS EXTRACT

Lotus is famous for its nourishing properties and high microelement content. Thanks to its anti-toxin properties, lotus extract restores hair structure, tones scalp, removes toxins, and moisturizes hair from root to tip, restoring its vital energy. Especially recommended for wavy, coloured, and chemically-treated hair.
Lotus recovery mask for all hair types penetrates deep into hair structure, smoothing the cuticles. Makes each strand soft and silky.
Lotus recovery co-washing gently removes dirt, and smooths down hair cuticles to preserve colour. The conditioner gives hair strength and shine, and is SLS-free. Use in place of shampoo.
VOLCANIC ASH
Japan was the first country to use volcanic ash in mass-produced cosmetics. Tsuno shared the secrets of this ingredient with us, and that's how the unique Arisu volcanic ash line came to be. It has powerful absorbent properties, and draws out dirt and toxins, deeply cleansing your hair and scalp.
Volcanic Ash micellar detox shampoo for all hair types deeply cleanses hair and scalp from remnants of styling products and other contaminants. Gives you a fresh, clean feeling that lasts.
Volcanic Ash detox clay mask for scalp and hair is deep cleansing for your hair and scalp. It neutralizes the aggressive effects of hard water and an urban environment. Hair becomes softer, shinier, and airy. We recommend using it together with the micellar detox shampoo from the Volcanic Ash series.