Dog-approved! New products in catalogue №18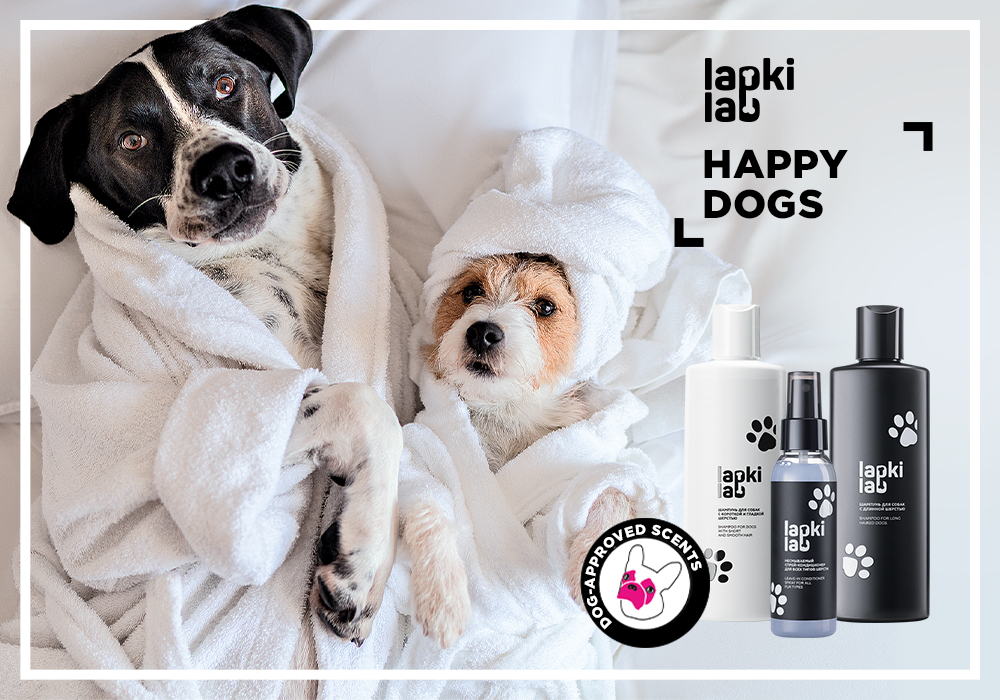 Hygienic products should be chosen carefully, based on your pet's age, fur type, and personal characteristics. We are careful and thorough with our hygiene, and our family pets need the same. Dogs can't take showers, so when you bathe your pet, it should be a joyful and exciting time.
The Lapki Lab series to help care for our four-legged friends will delight you and your family pet with a pleasant fragrance. The products' gentle formula won't cause irritation and is suitable for even the most sensitive pets.
The main benefits of the series are: the hypoallergic fragrance, odor-neutralizing technology, and universal products suitable for puppies, kittens, and other domestic animals. We never use sls/sles, and the products contain no parabens, silicones, or dyes. That's why Lapki Lab products are completely safe for both owners and pets! Sniffed and approved by our four-legged experts in the Lapki Lab!
Lapki Lab shampoo for long haired dogs
This shampoo cleans even the most luxurious, longest, thickest coat with ease, making it soft and smooth. Now brushing is sheer pleasure! The best products for your pets! The shampoo's pleasant fragrance will delight both you and your dog.
Lapki Lab shampoo for dogs with short and smooth hair
The shampoo gently and efficiently cleanses fur, leaving a pleasant fragrance behind. Turn regular bathing into an exciting game to make your dog clean and happy!
Lapki Lab leave-in conditioner spray for all fur types
Leave-in conditioner spray significantly softens fur, makes brushing easier, and neutralizes unpleasant odors, leaving a pleasant fragrance behind.
Recommended for use after shampoo for long haired dogs (2626) or on dry fur between washes.
The spray is suitable for puppies, cats, and other domestic animals as well.
Lapki Lab paw and fur cleaner
This airy foam gently and carefully cleanses your beloved pet's fur and paws. The express product easily removes dirt, leaving a pleasant, fresh fragrance behind. Your four-legged friend will definitely be happy!
The foam is suitable for puppies, cats, and other domestic animals as well.
Lapki Lab cleaning wipes for hair and paws
Did your pet head right for the dirt as soon as you stepped outside? These wipes will quickly and gently clean fur, paws, and the eye area, and you can continue your fun walk. The convenient format means you can always carry the wipes with you, just in case someone unexpectedly invites you in while you're on a walk!