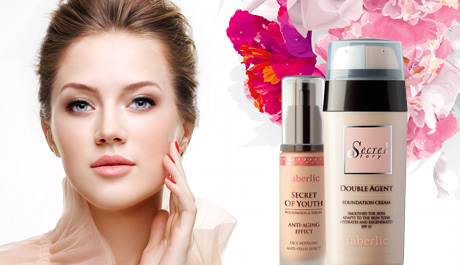 Skin tone is the makeup basics; you can't get a perfect look without a perfectly even skin tone! Having a range of foundations is not enough – you need to use them right. Meanwhile usual mistakes in "homemade" makeup are still popular.
1. No makeup base
Foundation base evens skin imperfections, removes flaking and dryness that become even more noticeable with foundation applied! Besides, a base makes your makeup last longer.
2. Bronzer all over the face
This product is for face sculpting. It is not to be used for the whole face.
3. Cheek colour only on apples of cheeks
Soft natural blush not only makes your face look fresh and rested – it corrects its shape. Triangle face becomes oval with some cheek colour of the forehead sides, pear-shaped face looks good with cheek colour on the lower part of cheeks, round one – above temples.
4. No concealer and highlighter
Highlighter is used to add light on prominent face areas – it looks like marble-crafted, such effect looks especially great for the evening makeup. A drop of highlighter above the upper lip makes your lips visually more voluminous. Corrector helps mask irritations, dark circles, redness – things a foundation can't handle.
5. Badly blended concealer
Don't try to hide all imperfections with one big stroke. Apply concealer only to the spots you need to hide and gently tap into your skin. For undereye area use the product along the orbital bone, gently blending downwards.
6. Foundation with fake tanning effect
One of the most traditional mistakes in choosing the right foundation – is to opt for a too dark shade. At first such shade looks refreshing, especially on the winter-white skin. But foundation should blend with your natural skin tone or it will look like a mask.
7. Artificial light
Do not select shades or apply foundation at the artificial light. Soft and gentle light, traditional for cosmetic shops, hides minor imperfections and mismatched colours. But they are obvious at sunlight!