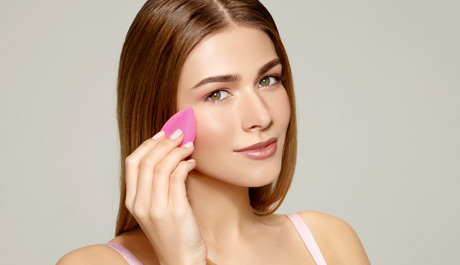 You use your hands or a brush to apply foundation? Try another professional way to even your skin and learn its advantages!
1. Sharp edge gives access to hard-to-reach areas – apply foundation to nose wings, eye and lip corners.
2. Sponge doesn't' leave fibers, clear spaces or spots, it acts like a wide brush, helps apply the product faster and better.
3. You can use sponge with any foundation – cream, fluid, concealer.
4. Sponge is scentless, doesn't provoke allergic reactions and is very soft.
5. Sponge can be used for dry and wet application: first method gives thick coverage, second one – light, weightless foundation layer.
6. Drop-shapes sponge is easy to hold, is flexible and doesn't' deform, you don't need special skills to use it.
7. You need less product for wet application.