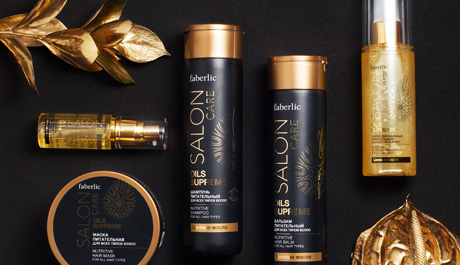 The Salon Care line includes the most delicate shampoo of all Faberlic range. It is sulphate-free, which means that it is suitable for weak hair.
Sulphates, or, more precisely, SLS (sodium lauryl sulphate) are added to shampoos to build a rich and stable foam. SLS-based shampoos provide deep cleaning, removing grease, street dust, styling product residue, but to do so it lifts hair scales.
It is unacceptable if you have just had an aggressive salon treatment! Just after permanent colouring, keratin straightening or lamination better use sulphate-free professional cosmetics to not damage your hair and let them regenerate from inside.
Sulphate-free shampoos don't lather so well and won't wash heavily soiled hair at the first try. You may need time to let your hair get used to sulphate-free care, but afterwards your hair transforms, looks healthier, stronger, more supple and natural. You also need delicate sulphate-free shampoos if your hair is damaged by high-temperature styling, looks fragile and unruly, while you wish to restore its beauty and softness.