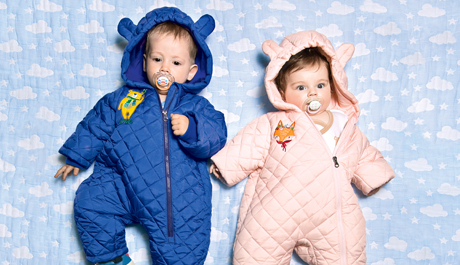 Children's clothing sizes are usually determined based on the child's height. We also offer age-based parameters, since children all tend to grow differently. Please see the table below, which shows sizes with all parameters (height, age). Clothing in the Faberlic collection is designed for babies from birth to 2 years of age.
Sock sizes correspond to the length of the child's foot:
10-12: less than 6 months – 1 year
12-14: 1–2 years
14-16: 3–4 years.

Clothing size chart

| | | |
| --- | --- | --- |
| Size | Child's height (cm) | Child's age (months) |
| 56 | 50-58 | Newborn |
| 62 | 59-64 | 1-3 |
| 68 | 65-70 | 3-5 |
| 74 | 71-76 | 5-8 |
| 80 | 77-82 | 8-14 |
| 86 | 83-88 | 14-18 |
| 92 | 89-92 | 18-24 |