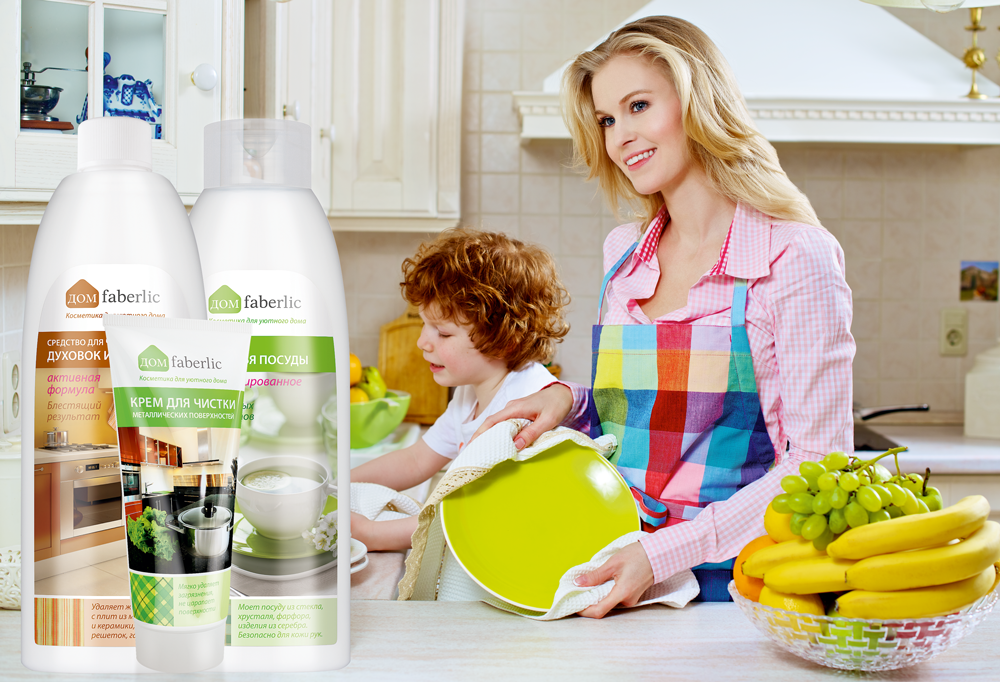 «Our home ought to be clean and environmentally safe. These characteristics result from many factors, with the proper home cleaning products being among the most important ones», says Rimma Korneeva, head of Faberlic Research and Development Center.
Speaking of cleansers and detergents, there are no little things that may be ignored, because it is a matter of health for you and your family.
Being an expert with 15-year experience in the manufacture of oxygen-based cosmetic goods, we seriously focused on the development of a new home care segment.
We used all our experience, knowledge and the most advanced technologies for the development of new product lines, with the main principles being the effectiveness, economical consumption and (most importantly!) safety.
Fabelic Home Collection has been designed to make you continuously confident about the beauty, cleanness and safety of your homely home!
What are the specific features of Fabelic Home products?
Our products differ fundamentally from the traditional cleansers that are sold in shops. Each formula is balanced to the maximum extent in terms of efficiency and concentration, with account for the international environment protection requirements.
Faberlic Home products are bio-degradable, which means they do not cause any harm to the environment. The detergent components are based on the natural-origin raw materials (coconut and palm oils) and complemented with fruit acids and natural minerals.
Our products do not cause any irritation, itching or allergy. They are perfectly rinsed out and washed away with water (in fact, to a much better degree than required by the State Standard), which makes them appropriate for washing kids clothes.
It is very important that all Faberlic Home laundry detergents are free from phosphates.
Phosphates are non-organic phosphorous compounds that are used as water-softening components in the detergent formulas (the well-known useful phosphor that is found in fish is organic and has a totally different origin).
In Europe, USA and Japan it has long been recognized that phosphate-based detergents are harmful for the environment and human health. Such detergents are forbidden almost in all affluent countries. When in the waste water, phosphates cause rapid algae bloom and finally result in the reduction of drinking water resources.
Phosphates are hardly rinsed out with cold water (it is used practically in all washing machines for rinsing). Staying on the fabric fibers, phosphates contact with human skin and may upset its acid-basic balance, cause irritation and itching. In case a person has sensitive skin that is prone to damage, phosphates may provoke the intrusion of various toxic substances into skin.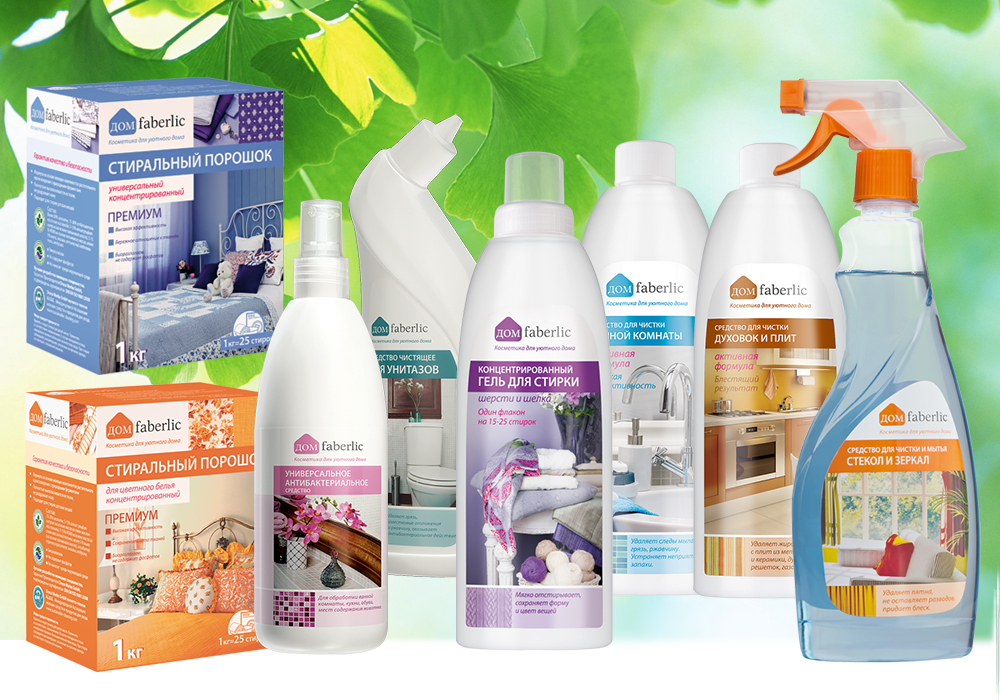 Faberlic Home Laundry Detergent (11121) is based on the advanced zeolite technology that was developed in cooperation with DRECO Werke, a well-known German manufacturer. As you probably know, Germany has the most stringent legislative standards and requirements relating to the environmental safety and protection.
Zeolites are the silicon-based minerals that are close to sand by nature. Their surface looks like a sponge with molecular-small pores. Zeolites are excellent natural adsorbents – they are able to absorb and remove any unnecessary particles. Due to this wonderful ability, zeolites are widely used for various purposes.
Faberlic Home detergents are formulated with the unusual zeolites – the ones that have one and the same microscopic size, 40 times smaller than the distance between the fibers of the most closely woven fabric! The ball shape and the universal, specially picked pore size ensure the best adsorption of the most common types of dirt.
Zeolites of Faberlic Home detergent do not stay on fabric fibers and completely rinse out with water, all the while making the dirt come out. They start acting immediately after the laundry detergent is dissolved in water: first of all, they adsorb the hardness salts and soften the water, which is an indispensable prerequisite of good laundry results and maximum effectiveness of other detergent components. Secondly, zeolites pull the dirt out of fabric and carry it away. Finally, they prevent scale buildup on the heating elements of your washing machine and in this way save power and prolong the useful life of your household devices.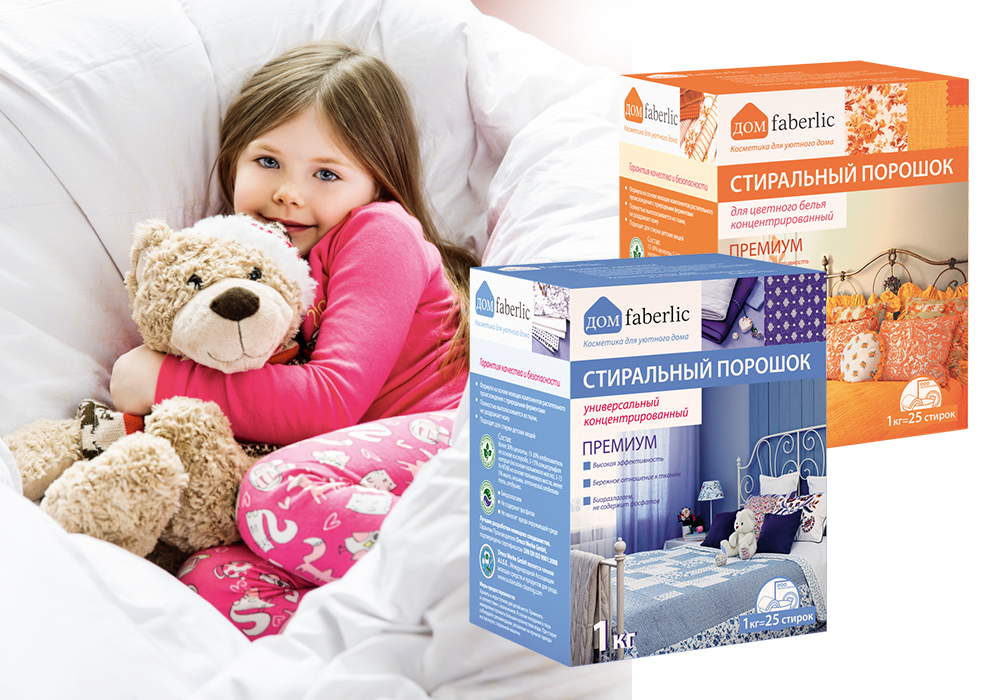 Faberlic Home detergent has excellent cleaning properties, treats your garments carefully, does not cause any skin irritation and is suitable for kids clothes.
Even though zeolite-based formulas are approximately 20% more expensive as compared with the traditional ones, high concentration of our product makes your laundry cheaper than before. You need as little as 40 grams for a single washing cycle with 4.5-5 kg of laundry, i.e. one kilo pack would be enough for 25 washing cycles or more than 100 kg of dry laundry.
Not only the laundry detergent, but also other products of Faberlic Home Collection contain the unique active ingredients that make them effective, economic in terms of consumption, and safe.
Liquid laundry gels have soft formulas with the detergent components based on coconut and palm oil, as well as several types of natural (biologic) enzymes that actively split various dirt (of oily, protein and carbohydrate origin) at low washing temperature. Therefore, these products are perfect for garments that need special care.
Concentrated Gel for White Laundry (11122) – features a soft formula with excellent cleaning and refreshing properties. The gel may be used for hand or machine washing. Its special liquid formula with a bleach agent restores whiteness and protects your garments from greying. The gel does not leave any undissolved particles on the laundry. Formulated with enzymes, it removes stains of various origin even at a low washing temperature.
Washing Gel for Wool and Silk (11124) ensures excellent laundry results with these delicate fabrics, prevents them from shrinking or stretching, keeps the colors bright and leaves your garments soft with a nice subtle scent.
The dish washing liquid and universal cleanser are formulated with coconut/palm oil, citric acid and natural minerals. This makes them safe, gentle on surfaces and hands without compromising on cleanness and wash-off properties.
Concentrated Dish Washing Liquid (11197 and 11198) is characterized by stable foaming properties, which significantly improves its effectiveness and reduces the consumption and washing time. The liquid is fully rinsed off; it does not cause irritation or dryness on hands (pH neutral). It may be used for glass, crystal ware, silver or stainless steel. Economic consumption is guaranteed.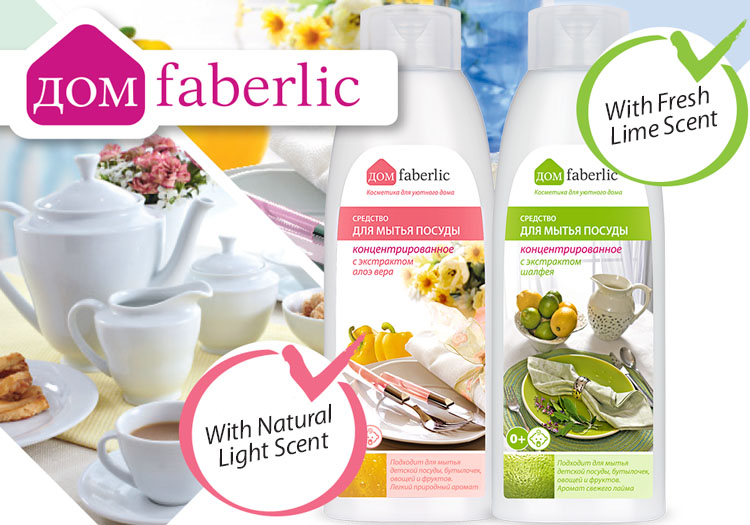 Universal Cleanser (11117) is perfect for any washable surfaces, such as walls, linoleum, floor, ceramic and plastic, washable wallpaper, interior items, refrigerators and gas stoves. Being effective on tough stains, it delivers an excellent cleaning effect on floor, walls, tiles, things made of wood, plastic and leather.
The cleanser does not need to be washed or rinsed off. In addition to that, it is safe for skin (no gloves are needed) and pH neutral. It does not contain chlorine, phosphates and alkali. Suitable for daily use.
Bathroom (11120) and toilet cleansers (11125) are formulated with natural edible and fruit acids (soft cosmetic acid that is widely used for different types of peeling).
These components effectively and gently remove rust, limescale, hardness salts and other impurities.
It is particularly important that the aforementioned acids feature an antibacterial effect, which means they instantly kill various types of bacteria and prevent their reappearance on the surfaces in bathroom and toilet.
Bathroom Cleanser (11120) is suitable for enameled and acrylic baths, shower cabins, sinks and tiles. It removes dirt, soap residue, limescale, stains and rust, adds shine to surfaces without any special brush. Does not scratch or damage the enamel.
Effective Toilet Cleanser (11125) does not contain any abrasive components, therefore leaves no scratches on surfaces. It removes tough dirt, limescale and rust with an antibacterial effect. Fights unpleasant odors, leaves a nice fresh aroma. Creates a protective film that prevents dirt from staying on surfaces.
The Universal Antibacterial Cleanser (11136) is formulated with a special active component that is allowed and recommended to be used in medical facilities, kindergartens and public catering enterprises. Due to the highest effect of this antibacterial component that works even in a small concentration, the cleanser does not need to be washed off the surfaces (the most important thing is that they dry out before further use), and provides excellent long-lasting results.
The cleanser is recommended for bathroom, kitchen and its utensils, living spaces and places where pets or shoes are kept. It is safe for humans and animals and becomes essential in the periods of mass respiratory diseases, as well as in trips and journeys.
Glass and Window Cleanser (11004) effectively removes dirt, stains and finger marks from glass and mirror surfaces, protects them from dust and adds shine without any streaks.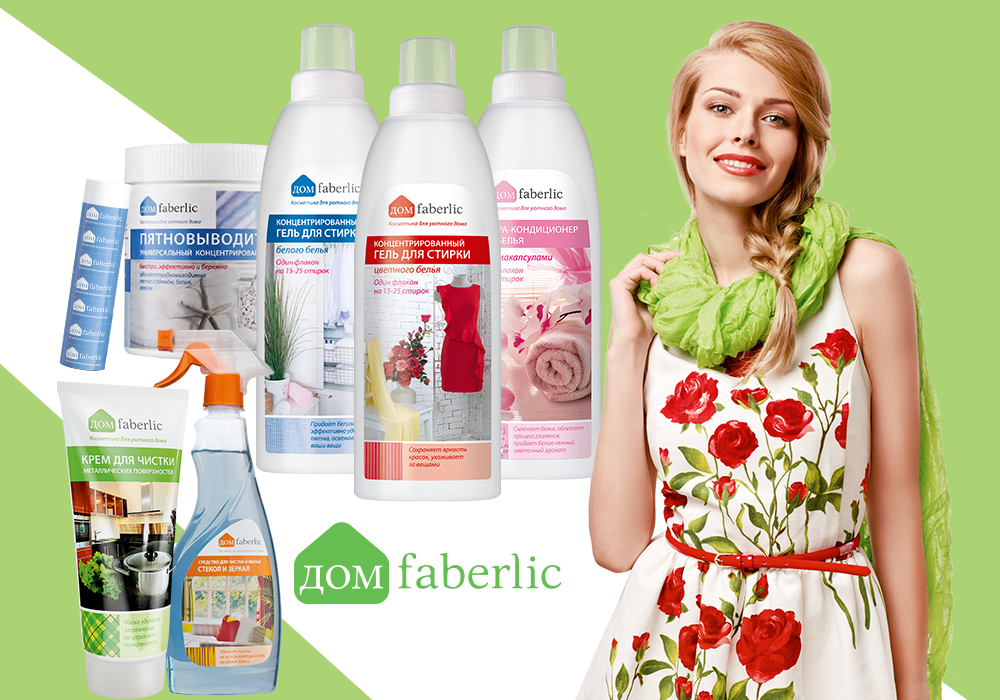 Home care tips
To achieve the maximum effect with home care products and avoid any incidental damage to the environment or your health, make sure you follow these simple yet very important rules:
Rule 1. Read the label carefully
A responsible manufacturer always follows certain rules. For instance, if a product contains any ingredients that may potentially be harmful, they are always specified on the package. In case a product contains toxic or caustic agents that do not decompose, they are listed on the label. Do not ignore yellow and orange marks on boxes and bottles to avoid any incidental damage to your health. A certification mark and information about the percentage share of core components are the obligatory requirements.
Rule 2. Use products for their intended purpose only
All cleaning formulas have been designed to be used in certain conditions, at certain temperature and with certain dosage. Do not believe the scare stories: it is impossible for the home care products to contain any banned substances, otherwise they would never pass the registration procedure. But it is important to realize however that bath and toilet cleansers contain acid, and oven cleansers are formulated with alkali – these are the ingredients that make them effective.
Rule 3. Follow the dosage instructions
You should not think that overdosing may enhance the cleaning effect of a home cleanser. You won't be able to remove the residues from the surface and will have to take a bath with an acid later. In this particular case 'the more' is not tantamount to 'the better'!
Rule 4. Do not mix the products of different manufacturers!
You may get a violent chemical reaction and fully neutralize a product.
Rule 5. Do not use home cleansers on hot surfaces
Do not pour home cleansers on hot surfaces! Let the oven or cooktop get cold first: under the high temperature, the properties of a substance may change.
Rule 6. Be careful when reading the usage instructions and labels on the interior items, household appliances and garments
Even the best cleanser or laundry detergent can spoil your favorite things or garments, if you don't follow care instructions given by the manufacturer. Separate your laundry according to their colors, textiles and recommendable washing temperature. As concerns surfaces, don't forget about their sensitivity to various acidity degrees.
Make sure you follow these rules to make your home the safest and sweetest place in the world!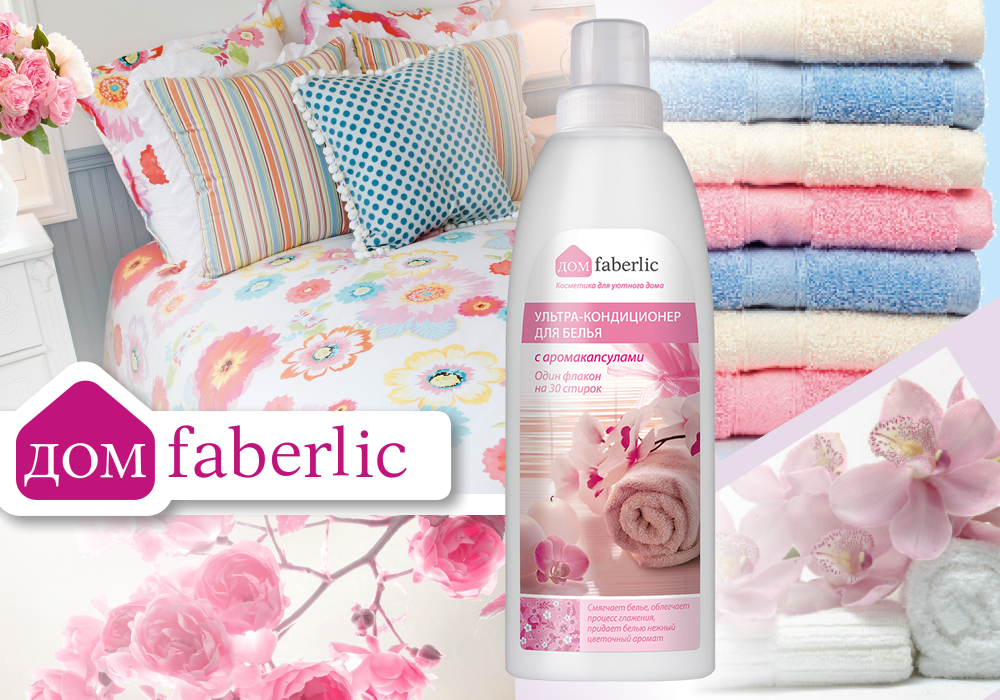 Quality certification of Faberlic Home products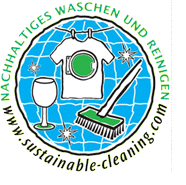 All our home cleansers pass an obligatory state registration.
In addition to that, they are subject to voluntary certification.
A.I.S.E. logo on our laundry detergent boxes states that our well-known partner manufacturer from Germany – DRECO-Werke – is among the members of the International Association for Soaps, Detergents and Maintenance Products (A.I.S.E). In 2005, A.I.S.E. initiated a plan for UN – a Charter for the responsible cleaning that ensures safe and environmentally clean production of cleansers and detergents.
The manufacturers that are entitled to put the Charter's logo on their labels have undertaken an obligation to assess their products using economic, social and ecological indicators.
Safety assessment of Faberlic products is based on IN VITRO methods; animal testing is not used.
Faberlic home care products are guaranteed to create the unique image of your home, fill it with coziness and the wonderful atmosphere of warmth, cleanness and safety.