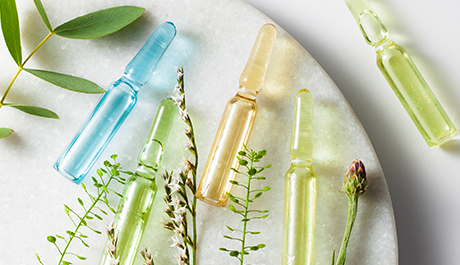 How are serums, beauty ampoules, and other concentrated products different from creams, and what are their advantages? Let's take a look at when you need to pull out the "big guns" and why.
1. Directed action.

Tired of waiting for results from your daily care routine? Universal treatments, of course, maintain the condition of skin and hair, but for a real transformation, we need concentrated products! Serums are an express option for those who need results here and now.
2. Designed for a full course.

To get a long-lasting effect, use a concentrated product as a course. Skin and hair will receive their portion of nutrients, and natural moisture levels or necessary micronutrients will be restored– after that, you only need regular, basic care.
3. Targeted.
Concentrated products are designed to solve a particular problem. Mixing two serums with different effects is not recommended.
4. Enhances everyday care.
If you want to make day or night cream more effective, add a serum to it or use a concentrate at the same time, in the smallest dose.
5. Restores skin after aggressive procedures.

Concentrates and serums help skin and hair quickly get back to normal after a deep peeling or hair colouring procedure. Using these products makes all your beauty experiments safer, and you can do them more often!