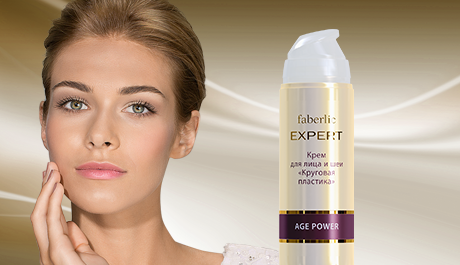 Question: Please tell me more about the Face Lifting Face & Neck Cream (art. 1078). How to use it properly and what products are best to combine with it?
Experts answer: Expert Face Lifting Face & Neck Cream (art. 1078) lifts and strengthens facial contours, improves resilience to physical impact. Prevents sagging of lower cheeks and chin, hampers deformation of face lines. Restores skin elasticity, tightness and tonicity.
Novaftem-O2 oxygen complex improves effect of all active ingredients. Activates local blood microcirculation, stimulates skin regeneration, actively participates in collagenesis.
Papilactyl D® is a patented complex of earthnut oligosaccharides, supports architecture of upper dermis and restores synthesis of collagens responsible for skin elasticity; prevents sagging and deep wrinkles; restores the level of highly elastic oxythallanic fibres that are highly related to the skin turgor.
Basaline® is a rejuvenating complex from barley malt extract, enhances synthesis of laminin – the amount of this adhesive protein decreases almost twice in the ageing skin. Laminin decreases sagging and improves skin tonicity by "gluing" collagen fibres and epidermal basal membrane together.
Wheat gluten hydrolysate instantly lifts facial contours and smoothes wrinkles. Hyaluronic acid is a natural component of skin matrix, absolutely indispensible for its tonicity, elasticity and hydration.
Recommended for all skin types.
How to use: apply the cream daily onto clean face and neck. Recommended course: minimum 60 days. Can be used in between courses for Anti-age, Rala, Premium skin care programmes.
Strengthening of Facial Contours programme: efficient for skin that loses its elasticity due to ageing processes or under the influence of environmental factors.
Apply few drops of the active serum with collagen onto clean face, neck and decollete.
Then apply the Face Lifting Face & Neck Cream (art. 1078) onto the same areas.
Duration of the programme: every evening for 60 days.
Efficient Wrinkle Correction programme:
Apply Stop Wrinkles Face concentrate (1060) or Correction of Deep Wrinkles serum (1063).
In 10-15 minutes apply the Face Lifting Face & Neck Crea.
Thus, skin elasticity and firmness improved, facial contours more lifted, skin more smooth.
Duration of the programme: minimum 60 days.