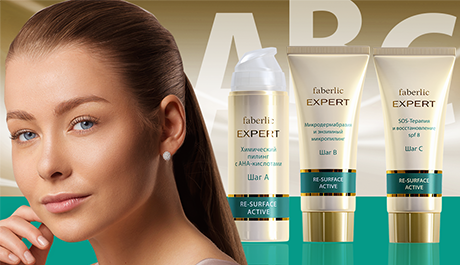 Question: Please tell me, at what age can I start using enzyme micropeels? What do I need to know when using them?
The Expert's Answer: Microdermabrasion and enzyme peels with tropical fruit enzymes, diatoms, and algae are the second step in the skin renewal programme, although many use these products instead of a scrub (and that's also OK, since it combines the effects of mechanical 'scrubbing' and an enzyme peel).
What effect can you expect with regular use? This product evens out the skin's surface, helps get rid of dead cells, brightens skin tone, deep cleans pores, stimulates cellular regeneration and renewal, and helps reduce skin flaking after a chemical peel.
How to use: apply to the well-cleansed, wet skin of the face, neck, and neckline. Massage with your fingertips for 1-2 minutes, then rinse with warm water and apply SOS-therapy and recovery cream for sensitive skin. Avoid the area around eyes and lips. For maximum effectiveness, we recommend using it after a chemical peel with ANA acids (step 1).
Age 20+: repeat the procedure no more than 1-2 times a week.
Age 30+: regular skin care 1-2 times a week.
Age 40+: every day for five days, then rest one day. A course is 5-10 procedures.
Question: Can Faberlic products remove acne scars?
Answer: They can. The Expert series set with AHA acids will help you.
Step 1. Chemical peel with AHA acids (1068).
Apply the gel to the entire surface of your face in massaging strokes with your fingertips, lightly massaging the skin. Avoid getting gel in the area around your eyes and on mucous membranes, and don't apply the gel to your lips. Rinse the gel off with warm water after 5-10 minutes using a sponge, and dry your skin with a tissue or towel.
Exposure time: 5-10 minutes.
For thin and sensitive skin, start with 1 minute of application, then gradually increase exposure from procedure to procedure until you've reached 10 minutes. If you don't experience any discomfort, and your skin adapts well to the product, then you can immediately increase exposure time to 10 minutes.
Please note!
• Slight burning, redness, or tightness of skin may occur when using this product. In case of a significant reaction, rinse the product off immediately with cool water.
• If the product contacts your eyes or gets inside your nostrils, rinse immediately with cool water.
• After 2-5 procedures, your skin may start to flake. This is its normal reaction to a chemical peel, as the skin sheds old, unnecessary cells. You do not need to stop using the product if this happens.
Step 2. Microdermabrasion and enzyme micropeeling (1023 or 1069) to even skin tone and exfoliate the skin.
Apply a small amount of micropeeling to the well-cleansed, wet skin of your face and neck. Massage it in light circular motions into your cheek zone (from chin to temple) and forehead zone (from centre to temple) with your fingertips. Work it into the nose and chin area with energetic inward strokes. Rinse the product off thoroughly with warm water and pat skin dry with a tissue or towel.
Exposure time: from 1 to 2 minutes for each zone (depending on your skin's condition and sensitivity).
Please note!
• If the product contacts your eyes or gets inside your nostrils, rinse immediately with cool water.
• Do not spend more than 2 minutes on microdermabrasion in each of the indicated zones.
Step 3. Recovery of skin balance after chemical peeling and microdermabrasion. Skin protection. SOS-therapy and recovery for sensitive skin (1022 and 1070).
Apply the cream with light massaging motions, distributing it over your entire face.
Question: Can I use the ABC Peeling in summer? Will I have pigment stains?
The Expert's Answer: The best time for peeling is autumn and spring. ABC peeling is not recommended for use in the summer. The product exfoliates away the top layer of your skin, and the skin is unprotected in the time right after the peeling, so the summer sun can cause pigmentation. If you need to do a peel in the summer anyways, use a high SPF sunscreen for at least a week after the procedure to protect your face from direct sunlight.
Question: Can I use the chemical peel + microdermabrasion if I have spider veins on my face?
The Expert's Answer: The chemical peeling programme can be used if you have rosacea. Recommendations: Use 1-2 times a week for a total of 10 5-minute procedures. After the procedure, be sure to apply the "Oxygen Mesotherapy" refreshing regime (1029), This product contains a large concentration of vitamin C, which helps strengthen vascular walls.
If you are going outside on a sunny day, we recommend using sunscreen with an SPF of 30 or 35.