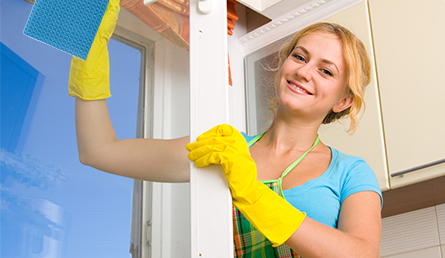 Washing windows in the beginning of spring has become a tradition for many homemakers. There was time when this chore could take several days, as dusted windows had to be cleaned in 2-3 stages, with several types of wipes, to avoid stroke marks…. Modern household products make this task much easier.
Use our tips to wash windows quickly and with no extra effort!
Don't choose old wives recipes over special products. Nowadays many companies stopped adding ingredients that may harm your health, in their products. For example, the Faberlic Home line is completely safe for you and your family. Such products are hypoallergenic but highly efficient and save your time and efforts!
Don't use sponges or foaming products – it makes the process longer as you should wipe windows several times to avoid stroke marks.
For windows, especially for plastic ones, the best choice are products without abrasives (they can scratch surface) or solvents (they disrupt the structure of materials and break their smoothness).
Better start washing windows from inner parts of frames. Be gentle with wooden frames! Don't dampen them too much in order, not to spoil them. Use special products for wood, for example, All-Purpose Wet Wipes (11127) or cleanser (11117).
In the past you had to change water up to 4 times to wash the windows, use huge amounts of wipes and cloths. Now you can save time and spend more time on leisure and pleasant things. Window and Mirror Cleanser (11004) will help you finish your task three times as fast!
It efficiently removes stains, easily washes off dirt and fingerprints, has dust-proof effect and makes windows shine without blotches!
To make your windows clean just spray the product and use a clean wipe to remove it. Start polishing your windows in vertical motions, then in horizontal.
By the way, the best instrument for this is a non-abrasive wipe, for example, made of microfiber. Use the Microfibre Cleaning Cloth for Glass Surfaces from the Faberlic collection (11032). Perfectly clean and shining windows with one sweep, without strokes, scratches and fibres. With this Cloth, you don't need to polish the glass dry.
Enjoy yourselves, recommend to your clients! Let your home be the coziest place in the world!