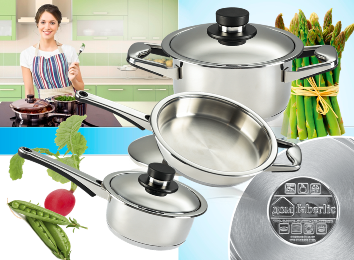 Faberlic creates products that help you maintain health and save time and money. Today we talk about stainless steel cookware "House Faberlic".
Before we take up the issue of such utensils, we analysed other similar offerings on the market, literally tens of saw-cut pans. And we understood how hard it was for the average person to make the right choice - you will not go to the store with a hacksaw!
To learn how to distinguish good from mediocre dishes without saws, the situation on the market and what to look for when buying, the head of products for home and garden Maxim Nicolenko explains.
Faberlic: Everyone wants to have "good dishes", but what is behind this phrase? What does "good crockery?" mean? The one on which nothing is burnt? Or maybe the one where everything is cooked faster?
Maxim Nicolenko: Good cookware provides all modes of cooking, while maintaining their appearance. And you can use it on any boards - gas, electric, induction and ceramic. It does not deform even after prolonged use at very high temperatures. This cookware is easy to clean and easy to use. In addition, it is safe to cook and store any food. But the cooking time depends more on the type plate and temperature hotplate. As for the "does not stick", here, I would say, the key role is played by two things - the structure and the thickness of the bottom, but most importantly - experience of the hostess.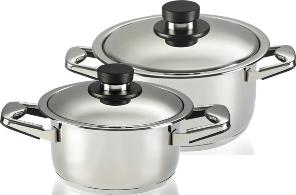 Faberlic: When buying items for "cooking" a woman can choose stainless steel cookware, enamel, aluminum and even the good old "grandmother" cast iron. Which of these types of dishes meet the criteria, about which you just talked?
Maxim Nicolenko: Well, cast iron cookware, which is often credited with almost magical properties, all the same "gadget" for the traditional Russian stove, and not for the modern kitchen. In addition, cast iron requires special care, it is impossible to wash the usual degreasing agents, can only be stored in a dry form. And, most importantly, it is not recommended to store food.
Enamelware, like everything, is good, but if there are chips on the enamel - make it categorically. And with regular use they are formed quickly. Therefore, it has a very short life span. About aluminum cookware (no cover), I can say only one thing - it is banned in Europe. Modern stainless steel cookware - the most perfect form today utensils, sturdy, durable, ensuring safety and hygiene, and high energy efficiency. No coincidence that such a utensil, according to the International Institute of Marketing Research, now holds 47% market share of all selling cookware.
Faberlic: I think part of the women's own purse contributed to the increase in this share, you can argue - not always ware from "stainless steel" as good as its makers say it is.
Maxim Nicolenko: I agree. This market is no different from the others - here, too, can run on low-quality goods, and well even if you pay for it 500-1000 rubles instead of four or five thousand.
Faberlic: By what criteria to choose high-quality dishes?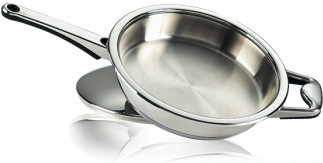 Maxim Nicolenko: Main - compliance with the standards developed in the Soviet era. According to GOST 27002-86, the thickness of the aluminum layer in the capsulated bottom of the dish must be at least 3 mm. Thickness greater than 5 mm is a sign of cookware premium in Faberlic - just like that.
The next indicator - the thickness of the walls of the pan, it shall be not less than 0.5 mm (the thickness of the walls of the cookware premium, which applies Faberlic - 0,8 mm). Steel, which made our cookware is marked marked 18/10 - this is the percentage of chromium in it / nickel. And this became known as the "medical", because it is also used for the manufacture of medical devices, including surgical.
The fact that not all stainless steel is completely chemically neutral. There is the concept of "limited corrosion resistance." That is another steel will react, for example, acidic foods. Take the time to explore the boxes of pots - it is possible that you will find unpleasant information that acidic food, soup or a hodgepodge, for example, to prepare this dish is not recommended, and keep it cooked at all - you cannot. Unfortunately, not all manufacturers notify customers about the limitations of this kind, or make it small, small print that few people read.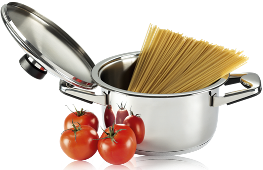 Faberlic: This is interesting! Hence, low-quality cookware and can give such a surprise? It this "deceit"?
Maxim Nicolenko: Yes, the composition of steel - it's not just a "dry" production information. For example, if a lower number were absent or nickel, the products stored therein impossible. To explain it simply. Nickel is responsible for the flexibility of steel leads to the disadvantage that the alloy badly bent.
Of course, this is not externally visible, but in the process of manufacture and operation of dishes "nickel failure" leads to the formation of micro-cracks, which fall in the food debris that wash up from there just is not possible and that will eventually become a source of toxins. In a pot meals quickly deteriorate, acquire a distinctive metallic taste, and the cookware begins to break down and is less.
Faberlic: Which other non-obvious to the user specifications may be just as significant?
Maxim Nicolenko: Thickness and bottom design. This is not just a parameter which manufacturers are competing with each other, and more important to the consumer than the moment. Thick, three-layered bottom, a kind of "sandwich" steel-aluminum-steel provides even heat when cooking on any plate. The result - less risk that prigorit, and most importantly - to warm up evenly! And there are no surprises from the series: outside - burned down, and still raw inside. Thus such dishes are not deformed when heated, and so last longer.
Faberlic: So the focus should be on the "heaviness" pan. The greater the weight, the thicker the bottom, the better the cookware. Is that so?
Maxim Nicolenko: Not really. It must be so, but in fact, many "relatively fair" manufacturers simply aggravate the bottom of the various "black" metals. But even heating is possible thanks to a layer of aluminum, which has excellent thermal conductivity.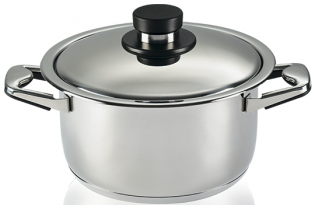 Faberlic: Some manufacturers claim that their product is triple-bottom. It's probably all excellent quality utensils.
Maxim Nicolenko: You see what it is, we do not want the pan to fly into space. This object completely certain "functional." And to the bottom provides uniform heating and termoakkumulyatsiyu, we need two things - quality steel and the presence of an aluminum layer is not less than 3.4 millimeters between two layers of steel. This is reflected in the guest - the state standard of quality. The presence of five ... seven layers (or a story about them) - just a way to make an impression ... and get paid for it. It's just a marketing ploy.
Faberlic: And how else we are being misled? Or rather, tempted?
Maxim Nicolenko: I would, when selecting, draw attention to the edge of the dish. Many manufacturers, saving on the thickness of the walls, knowingly make a bend on top. When we look at it from above, or try to determine the thickness of the walls to the touch, it seems to us that it is quite substantial. In fact - it is an illusion. Deceit as such is not such a maneuver, but the attempt to look better than you really are, you see, is alarming. That is why, after learning about these "subtleties" We did absolutely honest product feeding and would love to buy for yourself.
Faberlic: What range of cookware does Faberlic offer?
Maxim Nicolenko:: Today, the list is as follows: frying pan, ladle 1.5 liter, 2.5 liter pot, pot 3.4 liter, 5.2 liter casserole and steamer - to insert into the pot (3.4 and 5.2 liters) for steaming.
On the situation in the market, we asked to speak to an independent consultant, a leading expert on the CIS bowl stainless steel Ilya Petunova (Republic of Belarus).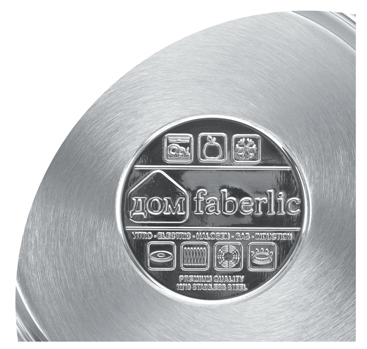 "The current situation on the market of stainless steel is really easy. Offer and huge number of brands and price level, and the number of suppliers.
Domestic producers occupy a small proportion of it, in most of the what is being sold is a brand which comes from China. And the share of really high-quality cookware that meets the requirements of GOST 27002-86, for a total weight of imports is relatively small.
A large number of dishes are imported to us by an opaque "gray" schemes, and its quality is not controlled at all. Consumers have to be content with only the declarations of importers. I am often asked whether the price of the product to ensure its quality. Alas, no.
Price ware determined by the price of the material, which in turn depends on the steel grade and the percentage of nickel, as well as the technical characteristics (thickness), polishing quality, degree of fame houseware brand, etc.
As practice shows, it is now in network hypermarkets selling for 300-500 rubles, use nothing but frustration does not work. On the other hand, a higher price can not guarantee the purchase of really high-quality cookware, because it is usually psevdoevropeyskie brands from the same China. So you can focus only on compliance with state standards and the reputation of the company. "