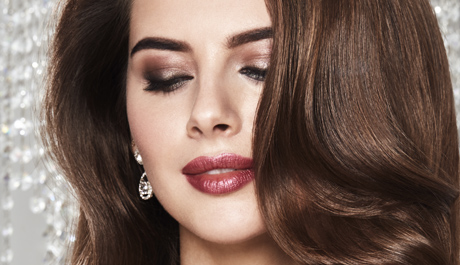 A smoky eye makeup with several well-blended shades seems hard and time-consuming to create, yet you can handle it with just a couple of lessons!

1. Whatever color combination you choose, apply the darkest shade to the eyelid from the lash line to the crease – you will blend it with eyeliner or eye pencil at the lash line.

2. Use only three shades to make it simple: the further from eyes the lighter! Inner corners are an exception. You need a sweep of light pearlescent eyeshadow or highlighter there.

3. You will need two brushes: a tapered one, to apply eyeshadow, and a flat dome-shaped one, to blend. It is much better to mix shades with a brush than with a sponge or applicator!

4. Match the colors for the smoky eyes with your outfit. You don't need to use the exact same colors, yet you better stick to a certain color palette, especially if you choose pink or light blue shades for your makeup.

5. Don't be afraid of shine – it will help you hide minor flaws in your makeup. Add shimmer or glitter over the eyeshadow to mask poor color blending.