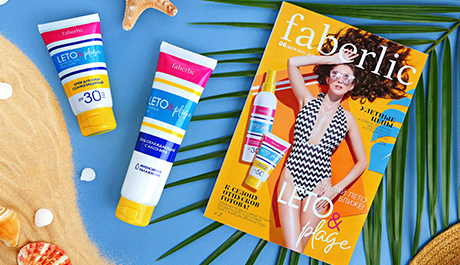 The sun is coming out from behind the clouds more and more frequently, and our long-awaited vacations are coming up soon. Mentally we are already there, on a golden beach under the endless southern sky, so the new Faberlic catalogue is full of bright summer colours!
It's time for you to start getting ready for summer! Meet it fully prepared: the LETO&plage series will help you protect your skin against UVA, UVB, and HEV rays that cause photoaging. Our creams, sprays, and milk for light, slightly tanned, or sensitive children's skin will help you to surround yourself and your loved ones with care. Don't forget that you can use the SPF 15 product as an everyday makeup base.
Looking for a new swimsuit? Delight yourself with a stylish model at an affordable price! Bright and elegant, practical and modern swimsuits for sunbathing — up to 50% off. Order one while your size is still in stock.
Every minute of this long-awaited spring is precious, so spend it on romantic walks and fun-filled travel. That means it's time for comfortable and fashionable shoes to step into the spotlight. Low-top sneakers in bright colours, white eco-leather sneakers, seamless or classic sneakers… Sport chic is here to stay, and your feet feel A-OK.
Next is a refreshing and floral musky fragrance with green notes of bamboo to match your spring style. Kaori Bamboo perfume for her is full of woody freshness and a subtle white tea scent. Try this new product at a special price in catalogue №6.
More bright colours in the little things that surround you every day! The Coloured Glass Dishes with decorative facets will paint both weekdays and holidays in unexpected new colours. Add a bit of luxury serving to everyday interior design! Don't postpone beauty for a special occasion, unleash your imagination right now! These new products are presented by actress and TV presenter Julia Vysotskaya.
What about our sale on the most popular makeup and body care products, you ask? Well, it's on! Look for low prices on lipstick, eyeshadows, mascara, nail polish, and perfumed cosmetics at the back of the catalogue. Happy shopping!
Download catalogue presentation >>