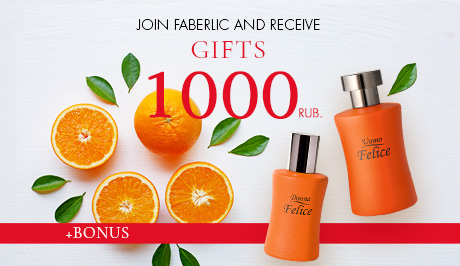 We're giving all Newcomers 1000 roubles towards an order as a gift!
How do I get 1000 roubles towards my order?
1. Register on faberlic.com from 20 May to 9 June, and 1000 roubles towards your order will be instantly credited to a special account in your personal profile!
2. Place an order of 2000 roubles or more before 9 June and use your 1000 rouble gift towards it!
And with an order of 2500 rub. or more, from 10 to 30 June, get a choice of two fragrances – Donna Felice (3109) or Uomo Felice (3210) – as an additional bonus to your order of 1000 rub. for just 1 rub.
If you place an order for less than 2000 rub., you won't be able to use your 1000-rouble gift, but the funds will stay on your account until 9 June and will be activated as soon as you make a purchase of 2000 rub. or more!
All prices do not include auto-delivery, service fees, or delivery charges.
Learn more about the New Representative program >>
Conditions of the "1000 roubles towards the first order with registration" promotion >>