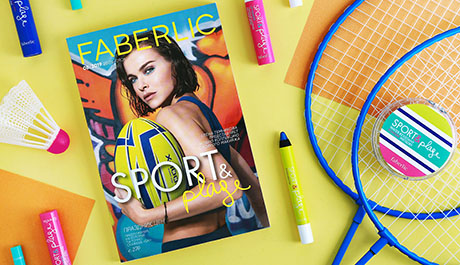 Come outside! The gentle sunlight and new Faberlic products won't give you a chance to get bored. If you're resting, then actively, and if you're doing something, then at full strength!

Long-lasting makeup is not afraid of capricious weather — it's your stylish autograph, your colourful manifest, your daring mood! SPORT&plage decorative cosmetics are not afraid of heat or sea, and are useful on vacation, on a city walk, and even while working out. These bright accents will paint your summer in your favourite shades. Which ones? Choose them now.
Summer is arriving and emotions are breaking free, you want to go beyond and show off your best. Let's do some fashion experimentation with an Italian mood! You'll find everything you need in the San Remo clothing and accessory collection: exquisite textures, loose silhouettes, modern animal prints, and sunny golden details.
We also have a surprise for lovers of home comfort: a collection of pyjamas, nightshirts, and jumpsuits made of delicate viscose! Make the most pleasant moments of your day as comfortable as possible and wear what you've always dreamed of!
Did you get a coupon for your purchases in the previous catalogue? Don't forget to use it in the new one! 50% discount on all cosmetics and perfumes, including household goods — plenty of things to choose from.
The new catalogue also brings romantic discounts on the most popular products for beauty and care, floral fragrances, and your favourite lipstick. We are kicking off wedding season with our best offers, so you can feel happy and loved and enjoy every day of the new summer.

We wish you cheerful shopping!
Download catalogue presentation >>