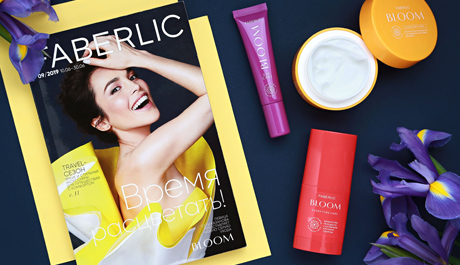 The new Faberlic catalogue is a whole bouquet of superb new products and good deals. Breathe in the scent of summer and hit the road for adventures:
Anti-aging Bloom care, a Faberlic beauty innovation with floral cellular concentrates to fight major signs of aging! Jasmine protects against wrinkles at 35, tuberose provides lifting at 45, and iris rejuvenates at 55. These products, featuring biomimetic capsules, are paraben-free and suitable for all skin types! Use both the Bloom Serum Activator and Expert series massage roller (11727) to achieve a noticeable effect as quickly as possible.
Going on vacation? Explore uncharted lands comfortably with our new collection of travel accessories. Organizers will allow you to pack everything you'll need in a new place, and the transformer bag will be useful if you run into an unforeseeable situation on your trip. Pack your favourite gadgets and travel notebooks in bright clutches, and the roomy cosmetics bags will hold your supply of beauty products plus dozens of useful little things. And don't forget a mini version of your favourite fragrance: three of them at once in the Travel collection (3056) gift set.
Use this summer to see the world, but be sure to come home in a good mood: your little helpers are waiting for you to make your everyday housework easier! New products for cleaning and culinary experiments are already here in the Faberlic catalogue: graters and vegetable cutters, cooking bags and mosquito nets, a telescopic mop and a citrus squeezer.
Browse the catalogue so you don't miss a single fresh idea! Look for discounts on refreshing body cosmetics, new products in the iSeul and Weekend series, and super prices on hit makeup products and the spring clothing collection. You'll have a great time shopping—all you have to do is get started!
Download catalogue presentation >>