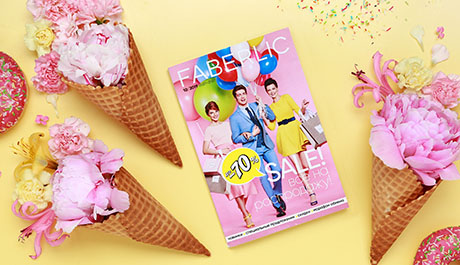 The summer is going to be a bright one! Colourful shopping, juicy new products, and brilliant discounts are all in the new Faberlic catalogue. Browse our album of impressions!
NO SNOW is a series of shampoos and balms against dandruff. Now the Faberlic catalogue has full care against the most common scalp problem! Only the mountain peaks will be snowcapped: zinc pyrithione gets rid of not the symptoms of dandruff, but the cause – the fungus – and does not let it return. Results right after the first application!
New players on the Vitamania team: sweet tangerine and refreshing bergamot. Liquid soap, shower gel, and hand cream with a bright, sunny aroma will make your summer! Order the new products at an attractive price as part of our big sale.
New products for a cozy home in a modern summer design! Towels and oven gloves, an apron and aromatic candles, dishes made of wheat fibre and a folding colander for fresh berries, even a steamer and a compact container designed in the gentle style of a countryside holiday. Meadow grasses have already blossomed, and we're ready to share this beauty with everyone! Hurry and order while our original household products are still available.
Catalogue №10 will start with two big promotions at once. The first is a grand sale with discounts up to 70% on cosmetics, perfumery, skin care, fashionable clothes, products for children, cleaning products, and more... Summer is a great reason for a shopping spree!
Our traditional swap marathon has begun: exchange any face cream (new, started, or even used) for a premium skin care product from Faberlic at a discount of up to 60%. Look for products with a yellow icon in the catalogue and swap for them!
Download catalogue presentation >>