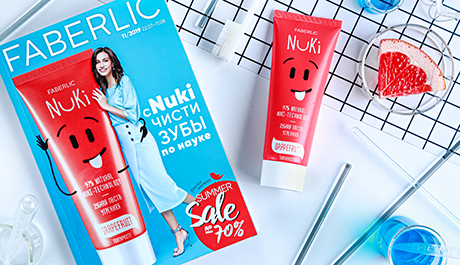 The new Faberlic catalogue is graced with Nuki characters, little friends with spirit and clear goals! Nuki Toothpastes restore and whiten enamel, freshen breath, prevent cavities, and ensure gum health. Six flavors, six complex care options, and six effective formulas with natural ingredients are an enthusiastic crowd, so find the one who was created just for you!
The new fragrance products in the catalogue were designed especially for mischievous girls. The fragrance takes up only slightly more space than a pen, and fits in a tiny clutch or jeans pocket, but creates a lot of fresh impressions! We took the favourite notes of young fashionistas and combined them in mini-perfumes for an impish pixie, a bright party girl, and a graceful young lady. Try the new products at a 40% discount!
The school uniform collection brings more clean-cut shapes and classic combinations. The season requires it: we're getting kids ready for school year weekdays, but leaving plenty of room for imagination. We help unify clean-cut uniforms with playful details, choose universal combinations, and add a bit of modern gloss and elegant decor. And don't forget about shoes, because the new catalogue has a pair for even the most demanding fashionista!
While the younger generation is preparing for September, adults are busy too: it's time to stock up on fresh vitamins for the winter! Accessories for home canning will make this process simpler and more enjoyable. Choose holders, tongs, and mitts in the Faberlic catalogue, and delicious new recipes will appear by themselves—just focus on culinary creativity.
And remember: summer shopping helps you save money. Pay for an order of 999 roubles or more and get a 50% discount on all fragrances in catalogue No.13 (starts on 2 September).
Want a discount right now? Swap any perfume for a premium fragrance from a celebrity at a lower price, because our marathon featuring hits from Valentin Yudaskin, Alena Akhmadullina, and Renata Litvinova will last until 11 August.
Let your shopping bring you joy, and let the summer charge you with positive energy! We've reduced prices not only on new products, but on the most popular products from our entire range as well. Don't hit snooze on this sale!
Download catalogue presentation >>