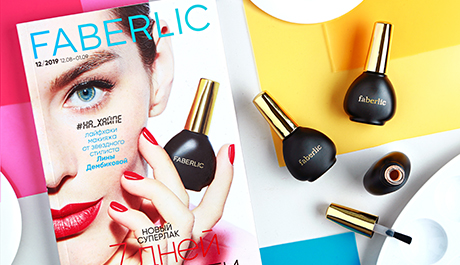 August is going to be bright! The new Faberlic catalogue is filled with the bright colors of summer in harmony with deep autumn shades – it's a kaleidoscope of discounts, new arrivals, and emotions.
Star stylist Lina Dembikova shares some life hacks for ultra-trendy makeup – read her advice for a stylish look for everyday and score some discounts on decorative cosmetics!
The newest product in the catalogue is Gel Coat nail polish. You won't need a base coat, it's quick-drying, and your manicure will stay neat and tidy up to 7 days. Take part in our swap marathon – bring in a nail polish from any other brand and exchange it for our new one at a discount. A rich, glossy finish for just 159 roubles.
We're adding radiance with a new СС-cream, this time in the iSeul series. This skincare system based on true Korean ingredients now features a product that adapts to your skin tone, hides imperfections, protects from ultraviolet radiation, and gives you a subtle, natural radiance. "Chok-chok" for all ages and skin types!
Get even more new shades – and not just for your cosmetics. Look for colorful basic jersey pieces and lingerie-style tops with lace trim in the new catalogue. It's simple to add colorful accents to your everyday looks: order a new product for just 799 roubles.
Your order from catalogue №12 will turn into a discount on fragrances! Pay for purchases totaling 999 roubles or more, and any fragrance from catalogue №13 will be yours at half price!
Make your choices joyfully and save money wisely. Happy shopping!
Download catalogue presentation >>