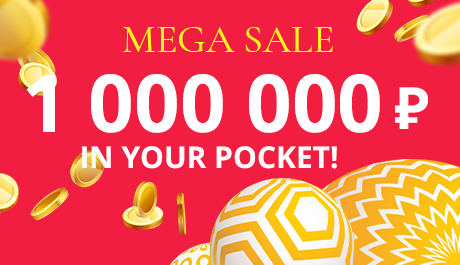 You think the only way to get a million is to earn it? No! Now you can win it! Take part in the Million in Your Pocket MEGA promotion from the catalogue №13!
Make purchases from 2 to 22 September, collect virtual cards, receive gifts and participate in the drawing of valuable prizes!
More purchases you make – more cards you get.
If you have a card from the Million in Your Pocket MEGA promotion, you already have a guaranteed gift from Faberlic* and stand to win a prize! The more cards you activate, the more chances you have to win grand prizes:
2 gifts of 1 000 000 roubles each.
15 Samsung Galaxy S10+ smartphones.
150 Mix bags from the Premium collection (11949).
2000 bottles of DESIRABLE Eau de Parfum for Her (new product from the catalogue №14).
Conditions are simple:
From 2 to 22 September place and pay for an order of 299 RUB and more from the catalogue №13. You get a virtual card for each 299 RUB of your order.
From 2 September to 13 October activate** all cards in your personal profile at the website. The more cards you activate, the more chances you have to win valuable prizes.
Guaranteed gifts* for each card will be available at the 2nd step from 23 September to 13 October.
Activation video guide:
Please note: the cards must be activated to participate in the promotion. The names of the winners will be announced on 21 October.
Make purchases, activate cards and receive the grand prize! Meanwhile watch the winners of the I Love Korea MEGA promotion receiving their prizes.
Good luck and great shopping!
*Gift – a right to purchase cosmetics, fragrances and household goods from the Faberlic main printed catalogue №14 at up to 70% off. Discount is taken from the base catalogue price indicated in black.
**To activate cards, go to the Coupons and Cards section and click the Activate button for each virtual card; to share it with a friend, click the messenger or social media icon.