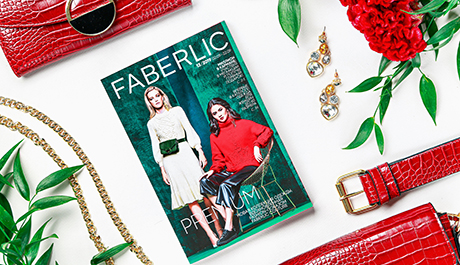 It's here: the new collection inspired by Faberlic's Moscow Fashion Week show! We've implemented looks, ideas, and mood from couture chic into bright collections for everyday.
The Premium collection has lots of surprises. And it's not just rich colours, unique prints, and amazing soutache embroidery on knit fabric—it's also elegant belt bags, seamless-upper ankle boots, stylish caps, and emerald shoes with reptile embossment.
But the main breakthrough is our plus-size models, up to size 60! Thanks to the comfortable fabrics, elastic waistbands on pants and skirts, and flowing bias-cut details, the plus-size line takes all the features of unique figures into account. This is a must-see, and definitely worth trying on!
Faberlic makeup technologies are advancing, too. The Face Cushion (6168) and Eyeliner Stamp are brand new in this catalogue! These new iSeul series products are designed for ultra-fast makeup. The cushion creates a weightless emulsion layer and adapts to your complexion, and the eyeliner (5755) gives you long-lasting winged liner playful star stamps.
Prepare for autumn with fancy tights as a new seasonal accent! The win-win designs of our new models include classic polka-dots, jacquard leopard, and pied de poule (houndstooth), which look elegant and daring, but surprisingly harmonious. The most important thing is to coordinate an outfit of basic pieces and not overload the tights with other colours or patterns.
Update your autumn wardrobe, bring joy to yourself and your loved ones, and participate in the next Faberlic MEGA promotion! Pay for purchases before 22 September, get a virtual bonus card for every 299 roubles you spend, then activate the cards in your Personal Profile. Each card is a guaranteed discount on cosmetics or fragrances from the next catalogue. Activate your cards before the end of the event and you'll be entered in a drawing to win one of our grand prizes: 2000 bottles of Desirable eau de parfum (new product in catalogue №14), 150 belt bags, 15 Samsung Galaxy S10+ mobile phones, and two cash prizes of 1 million roubles..
Enjoy the process of picking out new things, and luck will certainly favour you. Happy shopping!
Download catalogue presentation >>