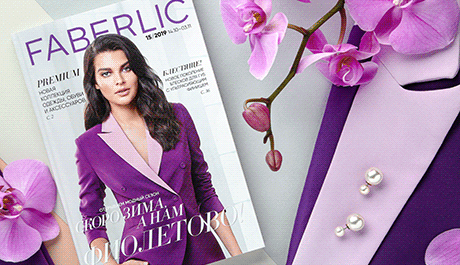 Say hello to an autumn full of rich colours! This is the new Faberlic catalogue and its vibrant finds.
The Premium collection is here to delight fans of trendy colours. Here you'll find fashionable purple, romantic pink, mysterious lilac, and a contrast for trendy combinations: bright yellow! They'll keep you from being bored and will inspire creative solutions for your everyday wardrobe. The collection includes models for girls and, of course, a size range of 42-60.
Impeccably elegant and universal seamless lingerie is suitable for women of any age or figure type. These comfortable models are invisible even under elegant or everyday tight clothes, won't leave marks on your skin, and help maintain proper body heat exchange. Find new cotton and microfiber models in white, black, and nude shades!
New products for everyone who is already actively preparing for a cold winter: lined thermal underwear for women, men, and children. The inner pile layer optimally maintains your body temperature, plus is breathable and absorbs moisture. This underwear is comfortable for long walks, out in nature, and even during an active workout in the fresh air.
What's new in skin care? Two universal products which are relevant all year round! The iSeul series presents a Transformer Face Gel with snail mucin (0875), and the Expert collection has been enriched with a Cooling Massage Roller (11868), an alternative to classic ice washing.
Autumn shopping is going to be cosy, so enjoy discounts in the new catalogue and be sure to buy something with the coupon you got for your purchases in the previous period! The promotion includes products marked with a special symbol. And every 999 roubles in your order earns you a new 50% discount on cosmetics and fragrances in catalogue №16. Happy shopping!
Download catalogue presentation >>