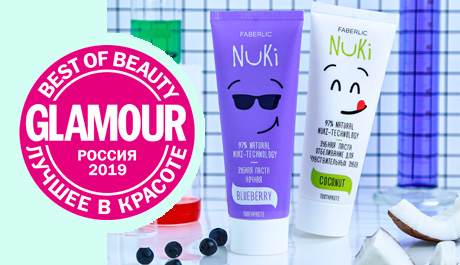 Faberlic cosmetics are among the nominees for the annual Best of Beauty awards from Glamour magazine. Beauty experts and readers will choose the hit products that deserve to be singled out.
This year, a new category was added: 'Beautiful Mouth Cavity'. Faberlic is represented there by the Night Care Toothpaste from the Nuki series.
Faberlic cosmetics will also compete for the top spot in the 'Face' and 'Makeup' categories. We're voting for Restoring Serum Activator 35+ from the Bloom series, Weekend Thermal Therapy Restoring Face Serum, Hydrophylic Cleansing Oil from the iSeul series, and beauty products from the new Glam Team decorative cosmetics line (market launch in catalogue 17/2019).
You can vote too! Follow the link and like your favourite >>
The winners will be announced in mid-December on the website and in the January issue of Glamour magazine. Cheer for Faberlic with us!