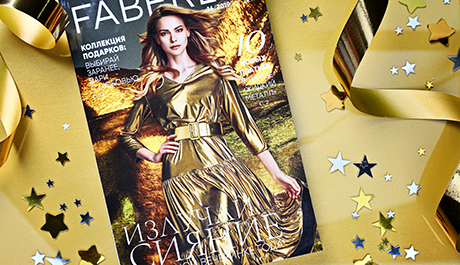 The brilliance of the new Faberlic catalogue is breathtaking! We are getting ready for the holidays and have prepared the most elegant new products of the year for you! Browse and choose!
Liquid metal is a fashion trend of fabrics with a spectacular glossy gleam. They flow and opalesce, emphasizing every movement! Their fantastic shine creates a unique festive mood, which is why we used these materials to design our new collection of holiday dresses.
Two types of fabric were used: thin metallic coated knit, and lame, a flowing brocade with metal threads in the base. Complete your look with a set of jewellery and new patent eco-leather shoes in metallic shades too.
Nothing makes you look more beautiful than healthy, clean skin. Try the next generation of cleansing! The Biomica series includes products that control the balance of your skin's microbiome and help skin stay fresh and radiant longer. Proper acidity stimulates the action of healthy bacteria that protect your skin from infections and irritation.
What would winter be without an everyday winter care collection? The updated Zima series contains a complex of precious oils and helps keep you comfortable in frosty and windy weather. You'll enjoy active outdoor recreation! Order a universal ultra-nourishing cream or special products in a gift box.
And we're also bringing the holiday closer for those who anticipate it the most: the smallest of us. New lines of children's accessories featuring fun characters will cheer up both children and their parents. The Teddy&Bunny series has everything that schoolchildren may need, from a pencil case to reflective stickers, and the Monsters series has also unique blankets, pillows, and towels. There will also be big backpacks going on sale starting from 25 November.
It's time to choose gifts! The sooner you start, the more joy you will get from this exciting process. There are plenty to choose from: gift sets, symbols of the year, aromatic New Year's shower gels, shining jewellery, and discounted fragrances.
Happy shopping!
Download catalogue presentation >>