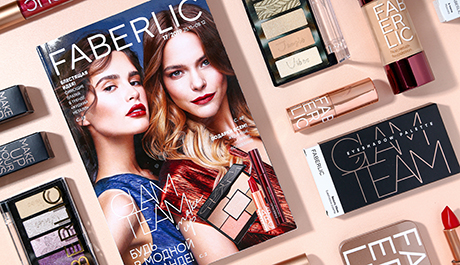 Be part of a trendy team! The new Faberlic catalogue brings you the expertise of beauty industry experts, innovative makeup technologies in action, and secrets of a perfect look.
The Glam Team makeup products line is a trendy palette, harmoniously matched shades for any type of appearance, flexible textures, and ultra-fancy effects! A classic lipstick with serum or a liquid matte lip? Soft, barely-there makeup or complex contouring?
Whatever makeup style you choose, the Glam Team series has a product that any makeup artist would approve of. Long-awaited new products at affordable prices - choose yours and create a look for New Year's Eve!
Don't forget about concentrated care, because you'll need fast, but effective products amidst all the New Year's happenings. Try the new product in the Beautylab series and stock up on instant transformation express masks at half price.
Choose a fresh, impressive, and mysterious fragrance for your winter look! Viking and Valkyrie are talisman fragrances imbued with the spirit of harsh Nordic beauty. Heather, green apple, Tarocco orange, and a sea chord for him, and notes of arctic raspberry, edelweiss, delicate hyacinth, and snow-covered rose petals for her.
Check seasonal care off your list and enjoy the changing seasons! Shampoo and Double Nourishment Balm with amino acids will protect your hair from drying and brittleness, restore shine, and get rid of static electricity..
And the fragrant products in the SuperFood line, based on fruits and vegetables that are rich in vitamins and antioxidants, will make your skin smooth and remove toxins. Vegan formula for absolute comfort and intense nutrition!
Shop for yourself and your loved ones and get new discounts from Faberlic. Get a 50% discount on a fragrance or cosmetic product from the first catalogue of the upcoming year for every 999 roubles in your order. Hurry and pick out gifts!
Download catalogue presentation >>