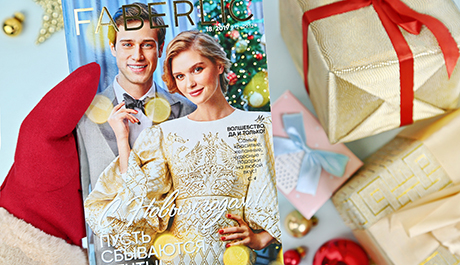 Magic is everywhere! Cute surprises and charming characters, plus attractive discounts here, there, and everywhere... This is the Faberlic New Year's catalogue, where fairy tales come to life.
Our leading lady is Supergirl Eau de Parfum (3059). Like all girls, she aims to captivate us at first appearance: the stylish packaging hides a bright bouquet of flowers and fruits.
A berry mix will make even the gloomiest person smile, and a trio of rose, peony, and freesia will fill the glum winter with a chorus of jolly notes. In any case, everything's going to be super! Scratch the bottle on the scented page in the catalogue!
Dramatic plot twists won't catch us off guard. Vario, the versatile cosmetics line, lets you choose care depending on your skin's needs, even if they change every day. Add a couple drops of your chosen elixir to the base cream, and enjoy results tailored to what you need right now. Try it out over the New Year holidays!
Holiday makeup in focus. A semi-matte finish on velvety lips: this is Color Attraction Lipstick with rich colour and caring oils. And what about an alluring gaze with long, voluminous eyelashes? Get it with HD Lash Mascara (5568) – a new product in our top line, Glam Team.
Even fairy-tale princesses want gentle care when they return home after their magical adventures. A product for delicate cleansing is a must-have! Try the iSeul series Gel Roll for face (0851). It gently removes dead cells and remnants of dirt from your skin, ensuring that nothing hinders its radiance!
Work small miracles for yourself and your loved ones, and get discounts from Faberlic. 50% off on fragrances or cosmetics from the first catalogue of the upcoming year for every 999 rubles in your order. Hurry and find the perfect gifts!
Download catalogue presentation >>