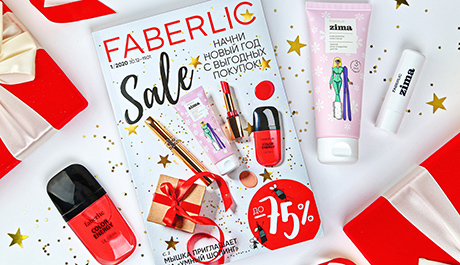 The new year brings new sales! The holiday Faberlic catalogue is one big super-offer, as always. Make yourself comfortable and browse the catalogue, find your favourite products at affordable prices, and treat yourself to some new products.
Try the Oxiology two-phase product for makeup removal (1242), and light Weekend gel-cream (0113) to give cleanliness and freshness to your eye area. These new products in popular series are designed especially for the delicate skin around your eyes, and help keep your gaze radiant while removing sights of stress!
Find the best prices on Faberlic hits in the first catalogue of the year. Hand creams from 69 roubles, shower gel from 79 roubles, liquid soap from 89 roubles, and any Beautylab face express mask for just 149 roubles.
The provident mouse, the symbol of the new year, invites you to do some smart shopping. Order two popular products and get a great discount on each one, get bonuses for your purchase, and hurry to get Faberlic best-sellers at the best price of the year! We placed products at the best prices at the beginning of the catalogue - look for pages marked Micro-price.
Winter sales are always cosy. Purchase clothes from the most comfortable collections at up to 50% off. Basic, Faberlic Sport, and our school collection are new practical outfits for the whole family. Try some on over the holidays!
Did you pay 999 roubles or more for an order from catalogue №17 or №18/2019? Don't forget to use your discount on skin care products, decorative cosmetics, fragrances, and household goods. Enjoy your days off!
Download catalogue presentation >>