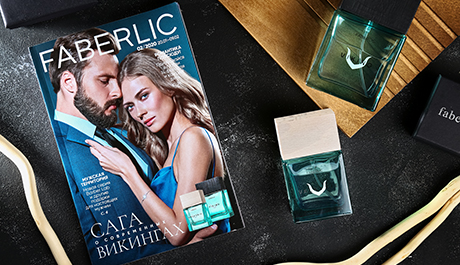 We never expected that we would be so romantic! Prepare for Valentine's day and delight those closest to you with cute surprises. Warm hearts and strong feelings in the new Faberlic catalogue. Join us!
The BarberLab series for the valiant and macho. This series is designed to gently care for the skin, hair and, of course, beard! Let men be proud of their perfectly even mustache and enjoy soft, silky hair. A fashionable look protected by balanced formulas. Order any two products from the new series and get a discount on each one.
What can you do when it's difficult to form words of love into a sentence? Don't just give an ordinary compliment— give a chocolate one! The exquisite taste and gentle message are like twins. Look for a Faberlic chocolate set in the new catalogue: 15 individually wrapped delights, each one with a romantic message! Chocolate perfectly complements any gift and brings happiness without a reason.
Love is surrounded by a gentle strawberry fragrance in the air... That's our limited-edition care collection: shower gel, shaped soap, and toothpaste with rich berry notes! Freshen your breath and leave a tempting aromatic veil on your skin.
Ready for a date. Your skin glows from within thanks to the iSeul series, the chok-chok effect, and our new gel with snail mucin. But a little radiance from without won't hurt either. Do so with the Shimmering Loose Powder! It has a special powder puff inside and a touching holiday design outside.
May all your purchases be bargains! Get discounts on your favourite fragrances, a trendy decorative cosmetics palette, trendy clothes, and accessories. And all this in a single catalogue!
Download catalogue presentation >>