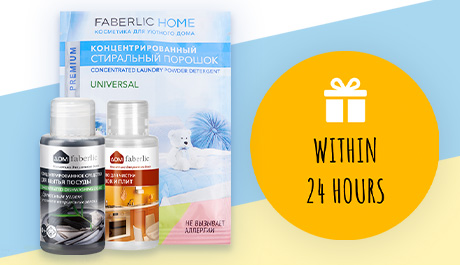 Place your first order within 24 hours from when you register, and get a Faberlic Home household cosmetics sample set (11980)!
How to get the sample set?

1. Register on faberlic.com from 24 February until 15 March.

2. Place an order of 1000 RUB* or more at catalogue prices. The order must be confirmed within 24 hours of the time you register on the site.

3. The Faberlic Home household cosmetics sample set will be automatically added to your order of 1000 RUB or more (for 0.01 RUB.).
The set includes:
Oven & Stove Cleaner sample, 50 ml.
Concentrated Dishwashing Liquid with Charcoal, 50 ml.
Universal Concentrated Laundry Detergent, 40 g.
We invite all Newcomers to participate in the promotion for new customers (step 1 of the New Representative program)!
* Excluding delivery fee.

Happy shopping!
Sincerely,
the Faberlic team