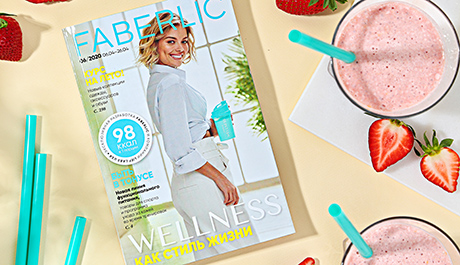 The Faberlic wellness catalogue has officially launched! A healthy outlook on diet, relaxation, fitness, and beauty is an investment in ease and a good mood. Try living wellness style, and we'll help you save more!
Faberlic Wellness functional nutrition is a ready-made lunch or dinner replacement. Wellness shakes, soups, and bars are a great source of proteins, fats, carbohydrates, fibre, vitamins, and minerals. It's a full meal!
These balanced portions easily fit into your active life, keeps you from feeling hungry, and helps comfortably control weight without denying yourself a varied diet.
Fitness accessories will make working out at home more enjoyable and effective! No more boring exercises! Follow wellness principles and stay active: may each movement bring you joy.
The yoga roller (910000) improves blood circulation in soft tissue, increases muscle tone and elasticity, and fights spasms and tension. The stretching ring (910009) is great for novices when working on leg, arm, back, and neck muscles.
The compact thigh and arm trainer (910008) will help improve your posture, tighten your abdominal muscles, strengthen your arms, shoulders, and chest, and tone your leg muscles. And at the end of the day, use the massager with a 3D attachment (910011) to improve lymph flow, reduce stretch marks, and make skin smoother and supple.
Your spring look, full of romance! Want to shine in the April sun and refresh your wardrobe, try out new shades and styles? Look for new clothing collections in the Faberlic catalogue. Minimalism is subdued colours and crisp lines, Love is a bold bet on red, and loungewear sets for sleep and home are tantalising and feminine in flowing satin.
We combined beauty and care in one makeup product: use it at home, at work, and on the go! Keep Balm lipstick gives your lips rich color and cares for your skin all day long. The oil and vitamin complex helps your lips stay soft and smooth, renews skin and supports moisture balance.
Don't forget about coupons and discounts - the ones you got as a gift for your purchase in the previous catalogue. You can use them to order cosmetics, fragrances, laundry and cleaning products - all at great prices, of course!
Happy shopping, and have an active spring!
Download catalogue presentation >>