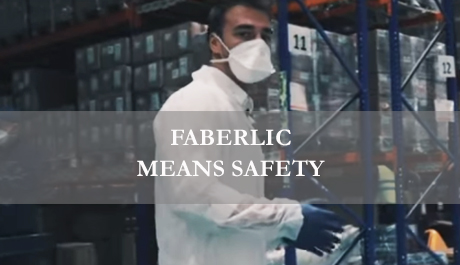 Dear friends, in the current difficult situation, Faberlic is still working for you - because we produce essential goods! And to ensure that our customers stay safe, even at such a stressful time, we have introduced a special antiviral regime.
Production employees and the production line operate according to new guidelines.
1. Upon entering the facility, employees undergo a health inspection. Only employees in good health and with a normal temperature are allowed to work.
2. Before the start of the working day, each employee disinfects their hands and puts on a disposable mask and gloves.
3. The distance between employees has been increased and is a minimum of 1.5 m.
4. All orders are packed in masks and gloves.
5. Every hour, assembly line employees disinfect the workplace.
Thanks to these measures, we maintain a level of cleanliness and safety we can stand behind!
Ordering soap, shower gel, cream, antiseptic or any other product on the Faberlic website is safer than going to the nearest supermarket in person for it. Spend time with your loved ones, avoid crowded places, and choose everything you need for a comfortable life.
Read about delivery methods here >>
See our report from production (onscreen is Rafael Abishin, digital marketing director): https://youtu.be/y8maDLLCJRU