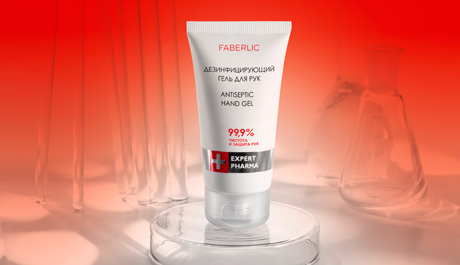 Our company successfully started production of antiseptic hand gel and donated the first batch (64,800 units) to medical staff fighting coronavirus. In the next few days, a total of 300,000 units of hand sanitizer will be donated.
Thanks to the coordinated work of tech developers at the Faberlic scientific research centre and production staff, part of production capacity was quickly refocused and release of this new product. Production was deployed within two weeks. That was also the amount of time it took to register the product with the Federal Service for Oversight of Consumer Protection and Welfare..
With support from the Ministry of Industry and Trade of the Russian Federation, all permissive documentation for further production has been received.
"Our production facilities are working at peak capacity, and employees are working double shifts. This means productions is notably higher than originally predicted. And we are already ahead of our plan," explained Alexey Nechaev, President of Faberlic.
The company's plans include producing the product with all current production capacity at 100% load while it is in demand. This is approximately 1.5 million units of gel per week.
Faberliс Antiseptic gel is 70% isopropyl alcohol. It is designated for sanitizing hands, does not need to be rinsed off, and is suitable for frequent use. Gel cleansaes hands and protects them from viruses, fungi, and bacteria. It has a prolonged effect. After applying the product, the alcohol scent evaporates within a few seconds.
Antiseptic hand gel can be purchased right now on our website for 99 RUB per 50 ml >>