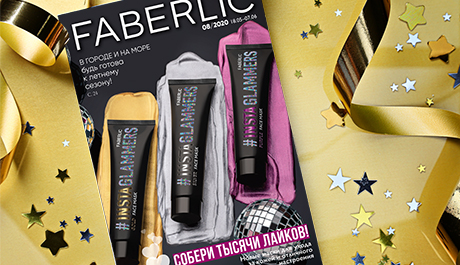 Get likes, share your great mood with the world, stay positive, and delight in the bright colours of summer with the new Faberlic catalogue!
It never hurts to liven up your everyday routine a little - it's even good for your skin! Meet our new line of face masks. Instaglammers is care with unexpected metallic glitter.
Aloe vera, amino acids, and hyaluronic acid moisturize and freshen, and the shimmering textures will make you want to do a photo shoot. Experiment with colour, emotions, and angles!
Get even more impressions with our new series of shower gels featuring the scents and moods of exotic countries. Bon Journey is a series that will help you rediscover the world! Alluring Bali, mysterious Mexico, sublime Iceland, charming Nepal, and outgoing Australia: subtle notes of flowers and spices from all over the world.
Charge yourself with positive energy and keep it all day. Our trendy new products were made for your daily wardrobe, ready to take on the challenges of a rapidly changing world! The elegant short sleeve v-neck tee will be a stylish asset in the most difficult situations. Choose your colour for 799 rub. and wear it in any season, in any conditions.
We've spent so much time at home recently that even the appearance of fairy-tale creatures doesn't surprise us. Meet Greenly, a line of laundry products and team of adorable helpers led by a caring home gnome. The concentrated powders and stain remover gently wash off tough dirt in hard water, and won't irritate skin or harm the environment. Featuring biomineral formulas for a higher standard of clean. Try them out if hard water is a problem you face.
Softening things and adding some magic to daily chores is our favorite tactic. Almost a year ago, we introduced the Nuki collection – a cheery group of toothpastes with natural ingredients, targeted action, and unusual flavors. They now have a new friend in the fight for good oral health: mouthwash with grapefruit essential oil! Hurry and try this new product while you can order it for just 179 rub.
Looking for new makeup products in the catalogue? We would never leave them out! We're pleased to present a new Glam Team makeup sensation: a gel-oil hybrid for your lips. It gives you plump, tempting lips and gentle care at the same time. Get an unexpected effect with one of the natural pink shades - we're sure you'll find one that's perfect for you.
Share your great shots with your friends and keep adding to your album of experiences. Happy shopping!
Download catalogue presentation >>