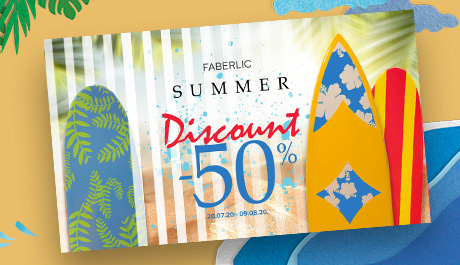 Summer shopping is a great way to cheer you up, and making purchases online is convenient and not tedious at all. See how much interesting we've prepared for you! Browse the catalogue and website, choose new products for yourself and your loved ones, and we'll help you save wisely!
Make purchases in catalogues №9/2020 - №10/2020 of 999 rub. or more and get coupons for a -50% discount* on one Skin Care, Hair Care, Hygiene, Decorative Cosmetics and Cosmetics for Home product from catalogue №11 (validity period: 20 July – 9 August). You get a coupon for each 999 roubles in your order (at catalogue prices). The bigger your order, the more coupons you get!
All earned coupons can be accessed in electronic form by registered customers in their personal profile on faberlic.com, in the Coupons and Cards section after paying for an order.
Unregistered customers can get their coupons in electronic or paper from their Representative.
One product per coupon, and one coupon per product.
Coupon discount does not stack with catalogue discounts and promotions.
*Discount is available from 20 July to 9 August, is taken from the base (black) price in catalogue №11, and can be used on fragrances, cosmetics, and household goods.
Happy shopping!