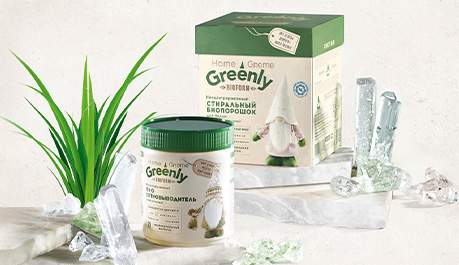 They won't harm your health or the environment, and get your dirty work done with ease!
We are giving Home Gnome Greenly laundry bio products to everyone who registers with Faberlic and makes a purchase in period №9/2020! These products meet the Royal Quality Standard. The manufacturer, SENZORA BV, was appointed Purveyor to the Court in the Netherlands, a distinction that proves the products are of highest quality.
Concentrated Laundry Bio Detergent for white and light-coloured fabrics (11891) prevents greyness and yellowness on clothes, protects fabric fibers.
Universal Concentrated Bio Stain Remover (11984). The unique bio-mineral formula effectively tackles tough stains and odours, protects fabric fibers and restores colors. Effectively cleans carpets, soft furniture, mop pads.
TO GET THE GIFT:
1. Register on faberlic. com from 8 to 28 June.
2. Place and pay for an order of 1499 rub.* or more before 28 June.
3. From 29 June to 9 July get a Home Gnome Greenly set of two laundry bio products with another order of 1000 rub. or more as a gift (for 1 rub.).
Also: place your first order of 1000 rub. or more with Faberlic in the first 24 hours after you register and get another nice surprise! Learn more >>
*Excluding auto-delivery, service and delivery fees.