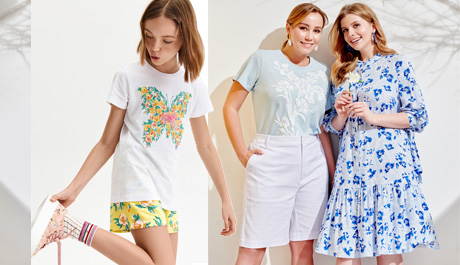 The Summer Flora пcollection is Faberlic's first online exclusive, and full of inspiration for summer outfits: light, stylish, and always positive, no matter the weather. It has more than just standard sizes и plus sizes, you'll also find children's clothing for the littlest princesses who want to be just as charming as their mums.
Clothing with a simple, subdued cut fits easily into your basic wardrobe. High-fashion models like the open-back dress with a lace bow will be the cherry on top, making you the star of any circle.
Special chic, as always, comes from the details. The hero of the collection, a floral print, is a long-standing summer trend. You'll see it on the oversized t-shirts and airy skirts, floaty dresses, spectacular shorts, and jumpsuits. Flounces, ties, and bows will add a romantic mood. There are also monochrome pieces in the collection - for more clean-cut looks, for example, in an office with a relaxed dress code.
The Summer Flora collection is a floral gift for everyone. Whoever your are - a little princess, a dreamy girl, or a businesswoman - keep up with fashion and make it fun!