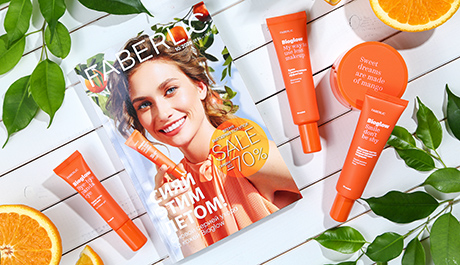 Summer glows in sunny colours and treats you to luxurious discounts! Say hello to new products and money-saving offers from Faberlic. Browse the catalogue filled with rays of sunlight and fruity scents.
Freshness, nourishment, and a luxuriant skin tone - that's Bioglow, a beauty series packed with vitamin C. Energy and radiance the whole day long, the bright scent of Sicilian oranges, and targeted action guaranteed!
The series includes a face cream with pearlescent effect, an eye gel, and liquid patches for correcting smile lines - everything your skin needs for natural youth.
Want even more radiance? Then Beautylab is for you! The new gel cream (art. 0950) can be used under your day cream or on its own. Instantly noticeable results! The luxurious shimmering texture provides maximum hydration, evens out your complexion, and makes your skin look lit from within. This is a limited release - hurry and get this new product for instant transformation.
How can you complement your sunny mood? Try new Botanica shower gels with the scent of sweet cornflower or refreshing green apple! Or head off on that long-awaited trip and take the practical travel pillow (art. 910051).
Summer freshness in new products for a cosy home! A collection of eco dishes romantic textiles with a botanical print will help transform ordinary meal serving. Create the mood of a countryside summer vacation right in your urban apartment, or take some new arrivals with you on your picnics! Dishes made from wheat fibre and special polymers won't break, and the accessories are all 100% cotton.
The parade of new arrivals tested by chef Giovanni Filippone continues! The grill pan will help you cook with minimal or no oil, the saucepan with a lid can be used for frying, boiling, stewing, and making sauces, and the kitchen accessories made of eco-friendly silicone are perfect for surfaces with non-stick coating, won't absorb odors, and are easy to clean. The season of culinary experiments is in full swing!
Whatever kind of summer you're having, it's worth choosing practical and money-saving shopping. Place orders of 999 rub. or more in catalogue №10 and get a 50% discount on makeup, skincare, fragrance, and home cosmetics from catalogue №11 (active from 20 July to 9 August). Happy shopping!
Download catalogue presentation >>